Premier League: Diego Lugano admits Luis Suarez and Nicolas Anelka are battling English culture
West Brom's Diego Lugano believes Uruguay team-mate Luis Suarez receives "fierce" treatment in the Premier League.
Last Updated: 02/02/14 4:19pm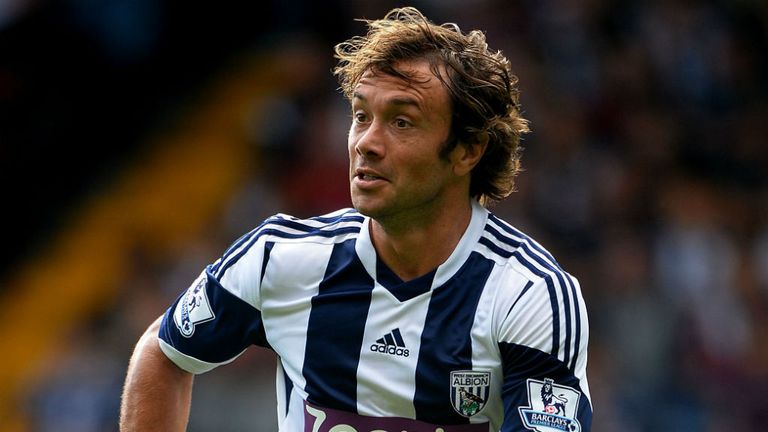 Lugano comes up against his compatriot on Sunday as the Baggies host fourth-placed Liverpool at The Hawthorns.
Suarez's time in the English top flight has not been without controversy and Lugano does not understand why the striker receives a hostile reception wherever he goes.
However, despite Suarez being handed bans for alleged racial abuse and biting an opponent, Lugano believes it is the Liverpool forward who is harshly treated.
"Luis is fiercely tackled in every game but that's because he is the best Premier League player," he claimed in an interview with The Sun.
"They tackle Luis also because he is a tough guy and he will be up on his feet after being tackled and facing defenders again.
"Luis is the best player in the league and even my team-mates at West Brom have asked me to a shirt signed by him."
Culture
Lugano insists Suarez' character cannot be judged by his previous actions and reiterated his support for his fellow countryman.
"There are people that still doubt whether Luis is a good person or not," he added. "I always say exactly the same - he is not a bad person for having had troubles with some opponents.
"That says nothing about him as a person. In my team, I would like to have a player like him, who fights and troubles his opponents but is like a lion when he has to defend his team-mates.
"Luis gets hard tackles all the time and nobody here in England says something about it. But if you insult an opponent inside the pitch, as it happened with Luis, then you will be punished.
"That's part of the English culture and you, as a player, have to adapt to it."
Suarez is not the only man to be embroiled in controversy however. Lugano's West Brom team-mate Nicolas Anelka has recently been charged by the FA for celebrating his goal with a 'quenelle salute', deemed to be an anti-Semitic gesture.
Despite admitting he did not understand the celebration initially, Lugano believes both Anelka and Suarez are picked out because they are the best players in the league.
Surprised
"I'm surprised as well that Anelka has been punished for a gesture," he said. "I must confess that I didn't know what it meant.
"I asked him and he told me it was a gesture for a friend of his - a French comedian.
"But you know English people; they are really strict over here. Just look at the case of Suarez. I think that they punish people like Anelka or Suarez because they are world class players."
Away from the ongoing furore off the field, Lugano has been impressed by Anelka's strength and determination in training.
"I was surprised by Anelka," he admitted. "He's a really tough forward. Our training sessions are tough.
"I have tackled him many times and he has never said anything to me.
"He doesn't even look at me. He just gets up and keeps playing. That's amazing. I've told him I was truly surprised by him as a player."