Pepe Mel wants complete performance from West Brom against Chelsea
West Bromwich Albion head coach Pepe Mel is hoping he can repeat his previous triumph over Jose Mourinho on Tuesday.
Last Updated: 11/02/14 8:06pm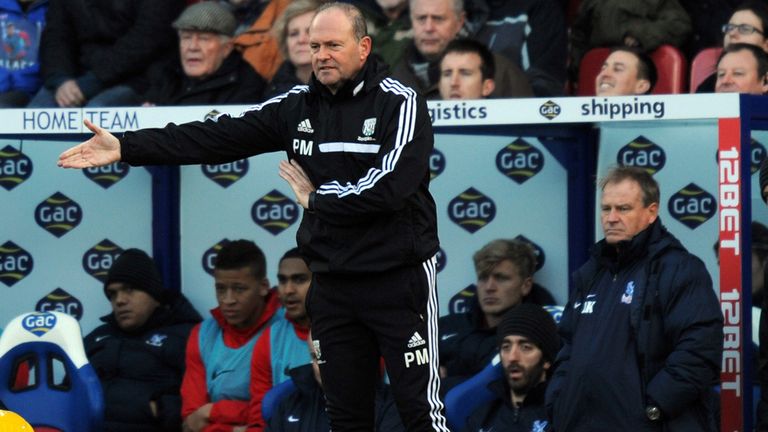 Just 15 months ago Mel steered former club Real Betis to a 1-0 win over Real Madrid, then managed by Mourinho, which was at the time only the club's second success in 22 matches against Los Blancos.
Relegation-threatened Albion go into their latest Premier League game having won just one of their last 16 matches in all competitions. whereas leaders Chelsea have won nine of their last 10.
Mel, yet to claim all three points in four games in charge of the Baggies, said: "It's possible to win. I recall when Mourinho was the coach of Real Madrid and I was coach at Betis, but we beat them 1-0.
"I got the better of him on that occasion, and although it wasn't the best win of my career, it was important for the players.
"What happened then can serve as a message to the West Brom players.
"It's the same with Fulham's result at Manchester United (a 2-2 draw on Sunday). That was a good result for them.
"It was important for us to watch that game, so why not us tomorrow?"
The players themselves, however, will probably turn to what happened at Stamford Bridge in early November to fire their desire for a win.
Albion were seconds away from a shock victory, only for referee Andre Marriner to award a highly contentious penalty that was converted by Eden Hazard.
At the final whistle it is understood a tunnel bust-up unfolded, with Mourino reportedly describing West Brom defender Jonas Olsson as "a Mickey Mouse player".
In the post-match press conference Mourinho belittled the Baggies by claiming "they are a team to finish mid-table, every point for them is a great point".
Mel, who was not in charge then, said: "Yes, it will be motivation, it is possible.
"But the best motivation for playing against Chelsea is Chelsea as they have good players, are top of the league, the best."
Mel, though, has told his players not to focus on what Mourinho might have done or said, but instead concentrate on trying to beat a team laden with stars, and with Hazard in particular in stunning form.
"Our problem is Chelsea, who have Hazard, Willian, Oscar, (Fernando) Torres, (Samuel) Eto'o, and not Mourinho," added Mel.
"For me Hazard is one of the top five players in the world, a very good player, and Chelsea are favourites for the title so it's going to be a very tough game for West Brom."
As to how to beat Chelsea, at least Mel can draw on his experience with Betis, adding: "We need to concentrate on the pitch for 90 minutes to get a good result.
"If we play for only 40 or 60 minutes then it is impossible to beat Chelsea. So I want to see my players playing as one team together, pressing together and dropping off together in set plays.
"With Betis we beat Real Madrid by working hard on the pitch, with good defence, good counter attack, and not letting Ronaldo play.
"With Chelsea it's the same."
Defender Billy Jones is the latest doubt with a knee injury, and if ruled out will join Nicolas Anelka, Stephane Sessegnon and Jonas Olsson on the sidelines.