Premier League: Nicolas Anelka is not fit to return to the West Brom side this weekend
West Brom head coach Pepe Mel says Nicolas Anelka will not be fit to face Fulham at The Hawthorns on Saturday.
Last Updated: 22/02/14 2:12pm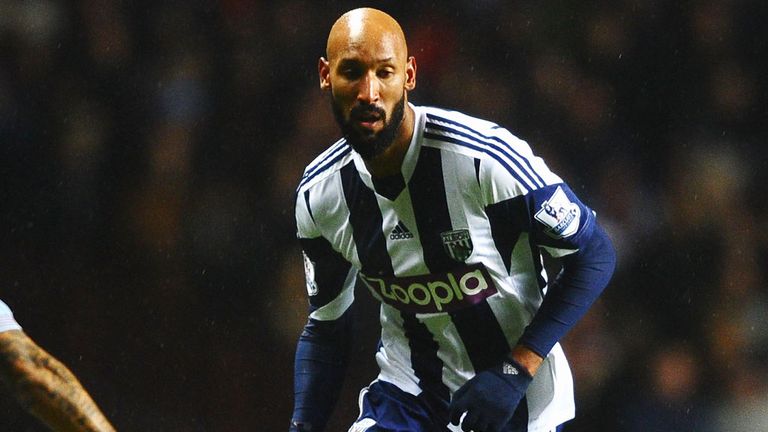 And that means the French striker could be absent for a while because he has a personal hearing with an independent FA panel next week.
Anelka has been charged by the FA after making a 'quenelle' gesture when he scored against West Ham on 28 December.
The 34-year-old has denied the charge and says the gesture was intended as anti-establishment but others claim it is considered anti-Semitic and he faces a minimum five-match ban if the FA decide the gesture was racist in nature.
Anelka has returned to training after a shin injury, but Mel said: "Nicolas had his first training session on Thursday, so it's impossible that he plays against Fulham.
"He is out. He's fit and he's good after the injury but he hasn't trained enough.
"As for the other thing, sorry, I'm the head coach only. I'd like the better outcome for Nicolas and West Brom but I respect the FA and its decision is good for me."
Asked if he was frustrated by the time it was taking for a verdict on Anelka to be reached, Mel added: "It's the rules.
"For me, what's important is that Nicolas was injured and it wasn't possible for him to play in recent matches. In the future, I don't know."
West Brom are only clear of the drop zone on goal difference but Mel, who took charge last month after Steve Clarke was sacked, says he is convinced they will stay up.
"I am sure, of course," he said. "West Brom will be playing in the Premier League, I'm sure.
"But more important for me is that the players think that too. I'm the coach, I don't play.
"I agree with (captain) Chris Brunt that we need to win five games."