Northern Ireland's Gareth McAuley accepts red card against Cyprus
Gareth McAuley says he has no complaints over his dismissal in Northern Ireland's 0-0 draw with Cyprus on Wednesday.
Last Updated: 06/03/14 1:28pm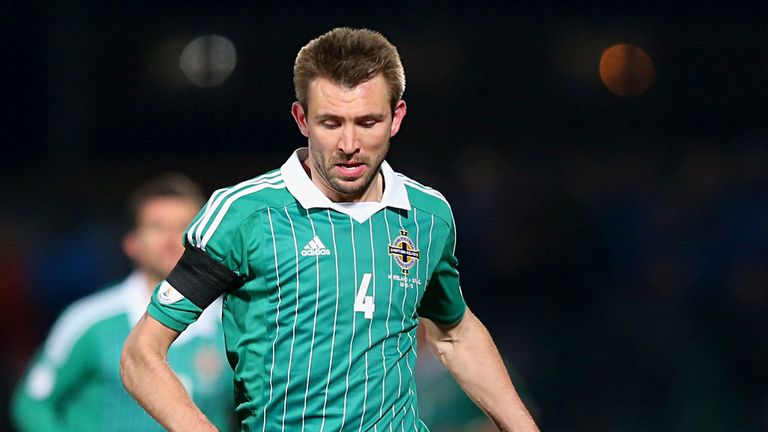 The West Brom defender saw red after a clumsy challenge on Dimitris Christofis which Israeli referee Liran Lanny deemed a professional foul.
Despite the incident taking place close to the touchline and almost 30 yards from goal, McAuley refused to condemn the match official's decision to send him off.
"I wouldn't say it was harsh, it's within the rules of the game," he said. "I had a split-second to make the decision because their guy made a great pass in-behind.
"I saw he was getting there first so I just took everything out. I nearly walked and I was just waiting for the red card really.
"I don't know if it was good decision or a bad one or what, but it denied a goalscoring opportunity and we got the clean sheet so we move on."
The match, which took place in front of a near-empty GSP stadium, was not much of a spectacle and McAuley insists Northern Ireland must do better in front of opponents in the future.
"It didn't spark," admitted McAuley. "We've all got personal standards and I don't think enough of us reached them on this occasion.
"You go away and analyse your own performance and Michael will do that for the group. Next time we get together we'll speak about what we could have done better and there will be a lot of things on that list.
"In the first half we tried to play in the wrong areas. We invited pressure from them and got nervous, making a lot of mistakes on the ball.
"We need to learn from that because there are no mugs now in international football and we've got some tough games in the group where we can't invite pressure or allow them to get on the front foot."