Reasons behind punishment for Nicolas Anelka over quenelle gesture published
The written reasons for the punishment given to Nicolas Anelka over his quenelle gesture were released on Thursday.
Last Updated: 06/03/14 6:34pm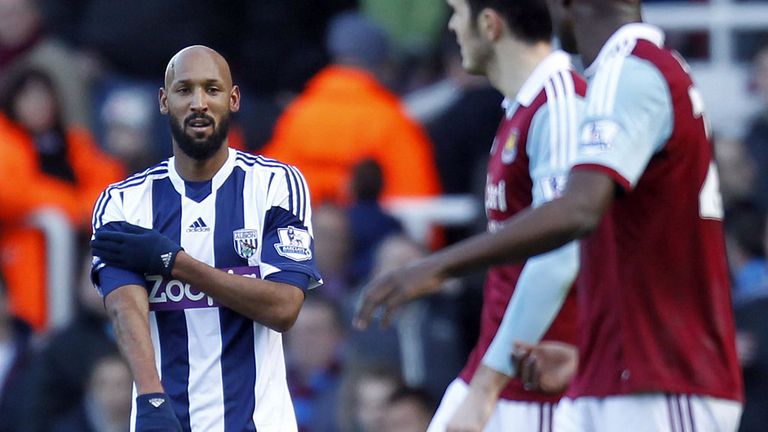 The commission published a 35-page document explaining how they arrived at their decision after the Frenchman performed the arm movement when celebrating a goal in West Brom's 3-3 draw against West Ham on December 28.
Anelka was found guilty of breaching rule E3 whereby he used abusive, indecent, insulting or improper behaviour which included a reference to ethnic origin or race or religion.
The former Arsenal and Real Madrid striker claimed he was merely dedicating the goal to his friend, the controversial French comedian Dieudonne M'bala M'bala, who invented the gesture and who he knew would be watching.
But the commission ruled the quenelle 'contained a reference to anti-semitism', adding: "We further concluded that Dieudonne is strongly associated with anti-Semitism and, as a result, we found that the quenelle is strongly associated with anti-Semitism."
In deciding on the five-match ban, the commission ruled against the Football Association's claim that the minimum sanction should only be given to those who plead guilty, as no such clause is contained within their rules.
"It would have been simple for the Football Association to have stated that in the rules, if that is what it intended," the ruling added.
The commission also compared the case with the eight-match suspension handed out to Liverpool striker Luis Suarez for racially abusing Patrice Evra in 2011, but pointed out the Uruguyan did so on at least five occasions while Anelka's was a one-off action.
Anelka, who must also attend a compulsory education course, has, along with the FA, seven days to appeal the sanctions.
There have been mixed feelings over the FA's handling of the situation. Labour MP John Cryer accused the governing body of a 'pathetically spineless response' in the House of Commons on Thursday while the European Jewish Congress and the Jewish Leadership Council have commended the way the FA has acted.
West Brom's internal investigation into the matter continues after they suspended Anelka on full pay last month.
Earlier this week, Belgian futsal player Omar Rahou was banned for 10 matches by UEFA after performing the quenelle gesture.