Premier League: FA elects not to appeal Nicolas Anelka decision
The FA will not appeal against Nicolas Anelka's five-match ban over his 'quenelle' gesture.
Last Updated: 13/03/14 8:12pm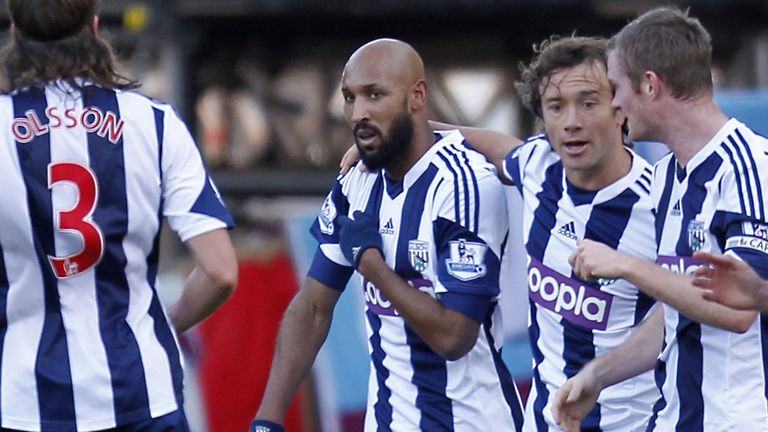 Anelka was hit with the ban last week after a hearing before an independent regulatory commission into his use of the gesture, which has anti-Semitic associations, as a goal celebration after scoring at West Ham on 28 December.
The FA also confirmed that Anelka himself has decided not to contest the independent regulatory commission's sanction.
A statement read: "Having carefully considered the written reasons of the Independent Regulatory Commission together with our appointed QC, the FA confirm they will not be appealing the sanction imposed on Nicolas Anelka.
"The grounds of appeal available to the FA are limited to legal challenges or to circumstances in which the sanction imposed is "so unduly lenient as to be unreasonable".
"As the written reasons make clear, the FA pressed the Commission at the original hearing to impose a suspension of greater than five matches.
"The FA does not consider there is a real prospect of successfully appealing to extend the sanction imposed.
"With confirmation that both parties will not be appealing, Nicolas Anelka will serve out his suspension during this season. We also welcome his confirmation the gesture will not be repeated."
The independent regulatory commission had published a 35-page document explaining how they arrived at their decision of a five-match ban for Anelka.
The former Arsenal and Real Madrid striker claimed he was merely dedicating the goal to his friend, the controversial French comedian Dieudonne M'bala M'bala, who invented the gesture and who he knew would be watching.
But the commission ruled the quenelle 'contained a reference to anti-Semitism', adding: "We further concluded that Dieudonne is strongly associated with anti-Semitism and, as a result, we found that the quenelle is strongly associated with anti-Semitism."
In deciding on the five-match ban, the commission ruled against the Football Association's claim that the minimum sanction should only be given to those who plead guilty, as no such clause is contained within their rules.
"It would have been simple for the Football Association to have stated that in the rules, if that is what it intended," the ruling added.
The commission also compared the case with the eight-match suspension handed out to Liverpool striker Luis Suarez for racially abusing Patrice Evra in 2011, but pointed out the Uruguayan did so on at least five occasions while Anelka's was a one-off action.