West Brom manager Pepe Mel admitted he was relieved after 1-0 win over West Ham
West Brom boss Pepe Mel praised his players after claiming his first Hawthorns victory with a 1-0 win over West Ham.
Last Updated: 27/04/14 8:23am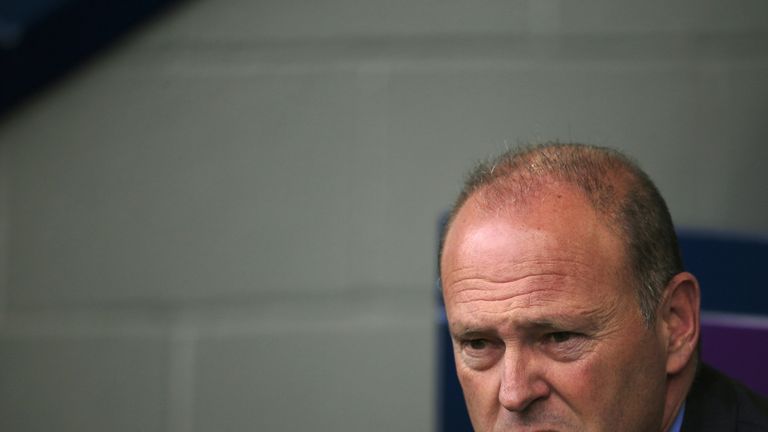 Saido Berahino struck early on in the Premier League encounter to move Albion onto 36 points, five points above the drop with three games to go.
The Spaniard admitted his relief after recent failures to see out leads in the Baggies' previous two home games against Cardiff and Tottenham.
Mel said: "In the last two games we really did deserve to be sitting here talking about a West Brom victory. This wasn't the case.
"There are nine points still to play for and we need to try and get three more."
The former Real Betis boss added: "I really am extremely pleased for the fans.
"They have shown once again why they are the best in the Premier League and today we can all go home happy."
Mel has had to contend with a number of off-field issues during his short tenure as head coach and admitted it's been a tough baptism to life as a Premier League manager.
"It's a very difficult job with too many difficult situations," he said.
"I think together we have been able to overcome these problems and today, we find ourselves with West Brom pretty much safe."
Mel's decision to start Berahino was justified as the England U21 striker scored the only goal. The 51-year-old stated: "Today I spoke at great length with Berahino and he knew he was going to play.
"I think he is a player with an awful lot of talent and a great future ahead of him.
"The only thing he needed was to work and think about the group, think about the team.
"Today, he's done this, therefore I'm extremely happy. I'm extremely satisfied also because it was a personal gamble.
"[The incident with James Morrison] It's a long time ago and it's been totally forgotten.
"And if against Cardiff and Tottenham we had done what we did today, taking the ball into the corner, we would have four points more."
Steven Reid limped off prior to the break and Mel is hopeful that the right-back will recover in time for their trip to Arsenal.
"Firstly Steven Reid has shown today that he's a great professional.
"He's very important to the group and he really does set an example for us to continue working.
"I hope he becomes available against Arsenal because we only have Billy Jones and Chris Brunt to play defensive on the wings."
On his own future, Mel added: "I think the job is only half done and, given the opportunity, I think that I can do a good job here."