Transfer news: Former West Brom midfielder Zoltan Gera hoping for Premier League move
Zoltan Gera says he has received a number of offers from Championship clubs, but still hopes for a Premier League move.
By Juha Pal
Last Updated: 08/06/14 7:03pm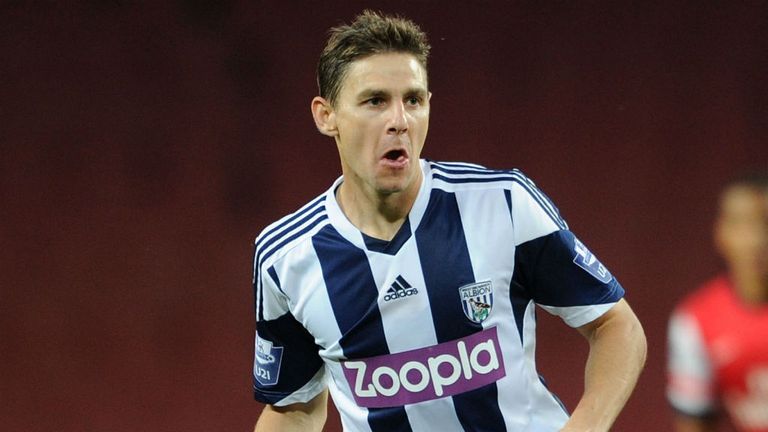 The 35-year-old, who spent a combined seven years at The Hawthorns in his two spells, was allowed to leave as a free agent at the end of the season following the expiry of his contract.
Gera made 15 appearances in all competitions during his final year with the Baggies and although his campaign was hampered by injuries, he was optimistic of securing a new deal after Pepe Mel told him that he remained part of his plans.
However, Gera's season was cut short when he picked up a hamstring injury against Norwich in April and Mel's departure in the summer cast doubts over the Hungary international's future as he was released from the club.
Gera told Digi Sport Television: "I've got detailed offers from the Championship but I still wait for an offer to come from the Premier League.
"I wouldn't really like to play in the Championship as there are too many games and the quality is not as good as in the Premier League.
"The Championship is a very tough league, if I happened to sign there then I'd choose a team where they have a playful football."
Asked for an example of the kind of team he could see himself fitting in at, Gera replied: "Derby County are like this, they played in the final and they have a good manager, Steve McClaren.
"The other side is Millwall where it's not the playing style but the strength which dominates. I'm not this kind of 'working' player.
"Of course, I like working too but I also need that the team touches the ball frequently. When I enjoy the game then it's easier to run a lot."
Gera also says he would consider a number of options, including a return to his homeland, but insists that it would have to be the right move for him.
"I have possibilities from countries where the league is not that strong - these are not top leagues - and it could happen that I'd play there," he admitted.
"I have to think it twice where to go because my daughter goes to the school in England.
"Because of this, if I signed to abroad I'd accept only a two-year-long contract at least. I don't like going to new clubs year by year.
"Hungary can be also an option, we're talking a lot about the possible future with my family, but at the moment it's not a reality that I sign home. I haven't received a detailed offer from Ferencvaros.
"I listen to all offers from any countries. I'm motivated, football is my life, I want to play until I can, until I'm 40."
Reflecting on his time at West Brom, Gera admitted his frustration with how it ended, but says he will always hold the club in high regard.
"I was very unlucky to get injured in Norwich. It was a decisive moment for my career at West Brom," he said.
"When I was back from my previous injury and started to play at our Spanish manager, he told me that he wanted me to stay and I agreed.
"But the situation has changed as I got this strain injury. I got well but I thought the best solution is if I leave the club with great memories.
"I wasn't angry at all, what's more I was happy that they gave me the chance last year when they extented my contract. I'm very grateful for this.
"Now I'm looking for new challenges and I'd like to go on. I feel that I can carry on and play for a couple of years - if injuries avoid me. I can say that my knee is absolutely alright."