Premier League: Brown Ideye set for West Brom debut but Joleon Lescott out against Sunderland
Last Updated: 15/08/14 10:00am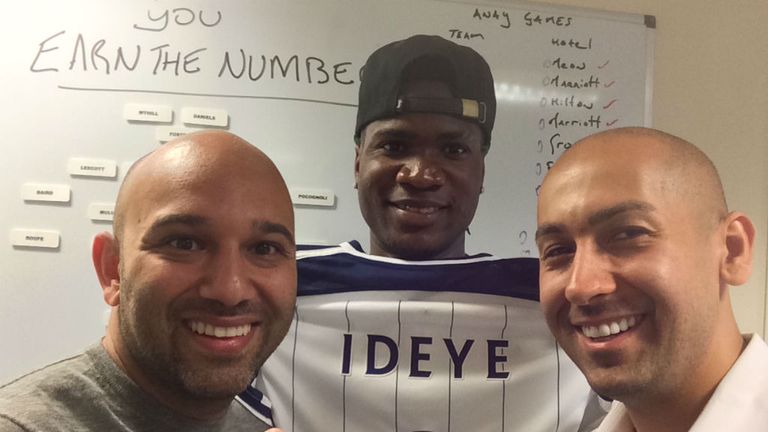 West Brom boss Alan Irvine gave a mixed bulletin on the availability front ahead of their Premier League opener against Sunderland.
Irvine looks like having striker Brown Ideye available for Saturday's clash with the Black Cats, despite the Nigerian only linking up with his new team-mates late last week, but defender Joleon Lescott will miss the game through injury.
Record signing Ideye only arrived at The Hawthorns last Friday after a long wait for a visa but he scored twice in a behind-closed-doors Under-21 friendly against Nottingham Forest on Tuesday.
"Brown's in our thoughts for the weekend, without any question," Irvine said.
"He's been here less than week so it will be a big ask if we do decide to put him in. But I've been really pleased with the level of his fitness.
"Because he hasn't had a full pre-season he isn't where I'd expect him to get to. But he has certainly come in good condition and has looked after himself.
"I'm sure the fans will look forward to seeing him and it's important we pick the right moments to put him in and look after him in these first few weeks.
"There is a danger of asking him to do too much too soon and then risking him getting injured. In terms of match fitness he's not where we'd like him to be. But he's looking fitter by the day and he's a good athlete anyway.
"He's not somebody I think who has great difficulties getting fit. He's just not had that much time. I've been pleased with what I've seen considering how late Brown came in."
Lescott suffered a knee injury in a senior friendly against Forest earlier this month and Irvine is wary of rushing him back and risking a more serious problem.
He added: "It's important that we make sure we bring Joleon back in at the right moment.
"He was desperate to get back in and make sure he was ready for the start of the season and probably, with hindsight, he came back a little bit too early.
"But what do you do when a senior player is that desperate to play and says he's okay? "It's difficult for the medical people to override that.
"This time we're being a little bit more cautious to make sure that he's definitely ready for when he comes back.
"We expect him to train with the group next week and we'll take it from there but the most important thing is that Joleon is available for most of the season, so if he misses a couple of games now, so be it."