Newcastle set to win the Championship, says Sky Sports Predictor
By Harry Carr
Last Updated: 10/03/17 12:48pm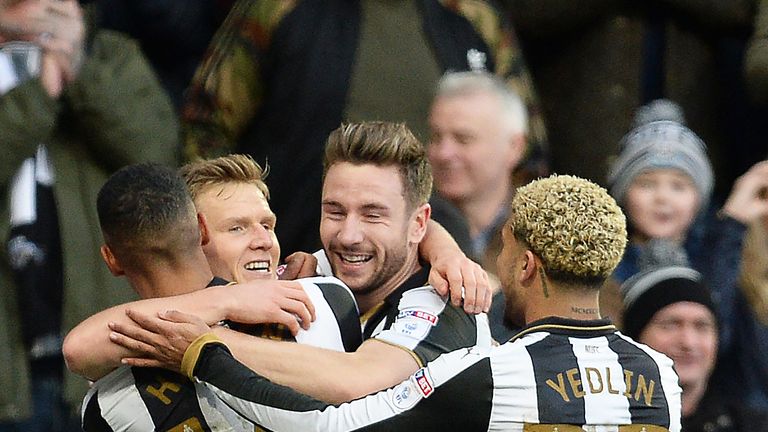 Newcastle United are on course to win the Championship, according to the Sky Sports Predictor. 
It's been a good few days for Rafa Benitez's side after they followed up last week's win at Brighton with victory at Huddersfield and a draw at Reading.
Those results have boosted their chances of finishing top of the pile in the second tier.
The Sky Sports Predictor, which uses an algorithm to rank results, previous performances and the difficulty of upcoming fixtures, gives the Magpies a 68 per cent chance of winning the league.
In contrast, second-placed Brighton have a 29 per cent chance, while Huddersfield are rated at just three per cent.
Newcastle's tough run of fixtures continues at home to Fulham this weekend - and the Predictor gives them a 68 per cent chance of success.
Sky Sports Predictor - % chance of Championship finishing position
| Team | Winner | Top 2 | Top 6 | Relegation | Predicted pts |
| --- | --- | --- | --- | --- | --- |
| Newcastle | 68% | 95% | >99% | <1% | 94 |
| Brighton | 29% | 85% | >99% | <1% | 91 |
| Huddersfield | 3% | 15% | 99% | <1% | 85 |
| Reading | <1% | 3% | 93% | <1% | 80 |
| Leeds | <1% | 3% | 87% | <1% | 79 |
| Sheff Weds | <1% | <1% | 75% | <1% | 77 |
| Fulham | <1% | <1% | 37% | <1% | 74 |
| Derby | <1% | <1% | 4% | <1% | 68 |
| Preston | <1% | <1% | 3% | <1% | 67 |
| Norwich | <1% | <1% | 1% | <1% | 66 |
| Barnsley | <1% | <1% | <1% | <1% | 63 |
| QPR | <1% | <1% | <1% | <1% | 62 |
| Cardiff | <1% | <1% | <1% | <1% | 61 |
| Brentford | <1% | <1% | <1% | <1% | 60 |
| Ipswich | <1% | <1% | <1% | <1% | 60 |
| Birmingham | <1% | <1% | <1% | 1% | 57 |
| Aston Villa | <1% | <1% | <1% | 1% | 57 |
| Blackburn | <1% | <1% | <1% | 6% | 54 |
| Nottm Forest | <1% | <1% | <1% | 7% | 54 |
| Wolves | <1% | <1% | <1% | 16% | 51 |
| Bristol City | <1% | <1% | <1% | 45% | 48 |
| Burton | <1% | <1% | <1% | 47% | 47 |
| Wigan | <1% | <1% | <1% | 77% | 44 |
| Rotherham | <1% | <1% | <1% | >99% | 27 |