Morgan defends managerial hunt
Wolves chairman Steve Morgan has defended the club's decision to sack Mick McCarthy after Terry Connor was named as his replacement.
Last Updated: 24/02/12 4:00pm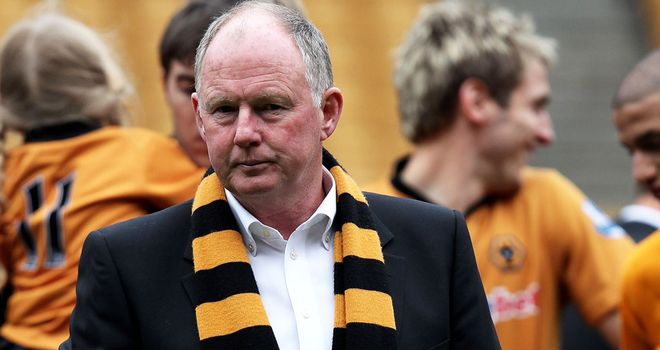 Wolves chairman Steve Morgan has defended the club's decision to sack Mick McCarthy after Terry Connor was named as his replacement.
McCarthy's former assistant Connor has been appointed as the new boss at Molineux until the end of the season with 13 games left to preserve the club's Premier League status.
A host of managers were linked with the role, including Steve Bruce, Alan Curbishley, Walter Smith and Brian McDermott, but the club have opted to promote from within.
Morgan has defended the process the club have undertaken in a bid to find a replacement for McCarthy and he believes Connor is the right man for the job.
"This is a very important appointment and this is not one you can make on a knee-jerk response," said Morgan.
"We have seen a number of people, nowhere near the amount of people that has been in the media.
"We went through the process and narrowed it down and it became clear from the way the players were responding to Terry that he was the right man."
He added: "Mick has done a fantastic job at this club. Each season that I've been here working with Mick, Mick has taken this club forward.
"This season it was different. The decision we had to take after the West Brom game (a 5-1 defeat after which McCarthy was sacked) was: was it right to continue the way we were going or was it right to make a change?
"Of course I'm convinced it was the right thing to do."
Morgan reiterated his confidence in the club's recruitment process. He did not entertain criticism of how Wanderers have gone about finding McCarthy's successor, but gave a heavy hint that he was not as happy with the conduct of those outside the club.
Broken confidences
"We've interviewed a number of candidates who were available and that's a normal process," continued Morgan.
"We have never once broken the confidence of the people we've spoken to. Other people have unfortunately broken confidences.
"I can't control what other people do, I can only behave professionally and handle things from our side.
"I have nothing to be embarrassed about, this club has nothing to be embarrassed about.
"One or two other people may have and may have leaked things."
Wolves chief executive Jez Moxey echoed the owner's sentiments, suggesting the club had treated the appointment with the importance it deserved.
"The process we've followed, despite what people may think, has been a really diligent, professional approach," he said.
"Part of the problem with football is there's not enough due diligence done in appointing managers, which is why we have the merry-go-round.
"We believe we have the best man for the job having assessed the market place as it is today."