Connor stronger in belief
Terry Connor insists recent problems have only strengthened his belief he is the right man to lead Wolves to safety.
Last Updated: 09/03/12 2:22pm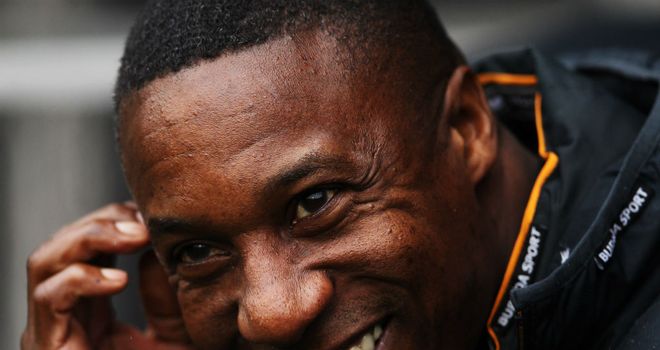 Terry Connor insists recent problems have only strengthened his belief he is the right man to lead Wolves to safety this term.
It has been a testing time for the interim boss this week, with his side thumped 5-0 at Fulham on Sunday in only his second game in charge.
Key midfielder Karl Henry was injured and now faces up to a month out, while Connor then had to discipline club skipper Roger Johnson on Monday after deeming him to have reported in an unfit condition to train properly.
But, ahead of the crucial relegation six-pointer with Blackburn on Saturday, Connor believes such problems have given him even more belief he can cope with the demands of being a manager.
"It has been a tough few days but those are the problems thrown at you and you have to deal with them," said Connor, who took over from Mick McCarthy last month.
"We allowed Fulham too much time to pass and move the ball around and, if you do that against a quality side, they will be able to tear you apart.
"The situation with Roger is the sort of thing I've not had to deal with before but I thought I dealt with it adequately enough.
"Injuries, like the one to Karl, are unfortunate but the sort of thing that happen all the time.
More belief
"If anything, all that has happened has given me more belief that I can do the job.
"I've experienced things this week where I think, 'I can tuck that away, I know now what I need to do to deal with those situations'.
"It has given me more belief I can do this job and certainly make sure we stay in the Premier League this season."
Despite not tasting success at home in six league games since a 2-1 victory over Sunderland back in December, Connor is determined that his side play in a positive manner against Rovers at Molineux on Saturday.
He added: "I know we haven't won at home since December 4 but we have to try to play in a positive manner, be bold and win a game of football.
"I hope the fans react to that and give a positive feedback to the players. Hopefully then everyone can go home with a smile on their faces.
"The lads are professional. This is their home pitch, and they want to win on that home pitch.
"People are building up the significance of this game and we know it will be big but it is not the end of the campaign.
Great boost
"We will try to get three points and, if we do, it will be a great win and a great boost for everyone.
"If it goes the other way, we've got another 10 games after that to get the points we need to stay in the Premier League."
Wolves stayed up on the final day of last season despite losing 3-2 to Blackburn after trailing 3-0, with Stephen Hunt's late goal edging them in front of relegated Birmingham on goal difference.
Wolves head to fellow relegation strugglers Wigan on the final day of this season and Connor believes it will again go to the wire.
He said: "It was a rollercoaster of a day and at the end of it there was joy and relief as we had retained our Premier League status.
"We'll be looking to do the same come the end of this season. I think it will be decided again there or thereabouts on the final day.
"I'd love to win the next five or six games and not have to worry about that. But I'm realistic - I know what happens."