Mikel taking nothing for granted
Mikel Arteta insists Arsenal are not taking Wolves lightly ahead of Wednesday night's clash with the relegation candidates.
Last Updated: 10/04/12 6:14pm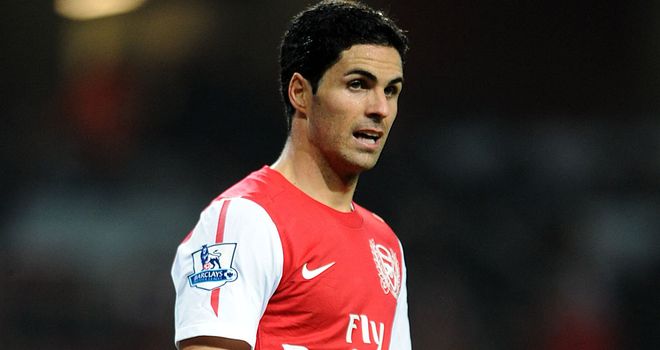 Arsenal midfielder Mikel Arteta insists the Gunners are not taking Wolves lightly ahead of Wednesday night's clash with the Premier League relegation candidates.
The Gunners are red-hot favourites to further tighten their grip on the top-flight's third and final automatic UEFA Champions League spot when they travel to Molineux.
Rock-bottom Wolves have lost their last six matches, while Arsenal have won seven of their last eight.
But the one blip in that spell came at QPR just over a week ago, the latest shock defeat for Arsene Wenger's men away from home this season following surprise setbacks at Blackburn, Fulham and Swansea.
Not easy
Arteta said: "I don't think it will be easy at Wolves.
"We have some good examples this year when we have dropped points against teams near the bottom.
"We have to go there with the right mentality and the right approach and sense of pride.
"When you're playing away from home, there are no easy games in the Premier League."
The sentiments of Arteta, who has been key to Arsenal's resurgence in the last month and a half and netted the winner in Sunday's 1-0 win over Manchester City, were echoed in the most recent programme notes of captain Robin van Persie.
Top scorer Van Persie, who has now gone four Gunners matches without scoring for the first time since 2010, wrote: "I remember when - without being disrespectful - I first arrived here, there were some games when I was thinking less about whether we would win or not, and more about who would score for us and how many we would get.
"There were some games like that in my first couple of years, but those days are 100 per cent finished because the so-called smaller teams have improved so much.
"Look at the league table, there are battles all the way down.
Wake-up call
"That QPR game was a wake-up call for us.
"I don't believe that we didn't work hard because I have seen the stats and we did work hard physically, but everyone realises you need to be 100% against every single team, or you will be punished.
"Every team has great players who can be decisive at any moment."