Wolves boss Stale Solbakken gets backing from his players
Wolves boss Stale Solbakken has received the backing of his players, despite them dropping to 18th in the Championship.
Last Updated: 02/01/13 6:04pm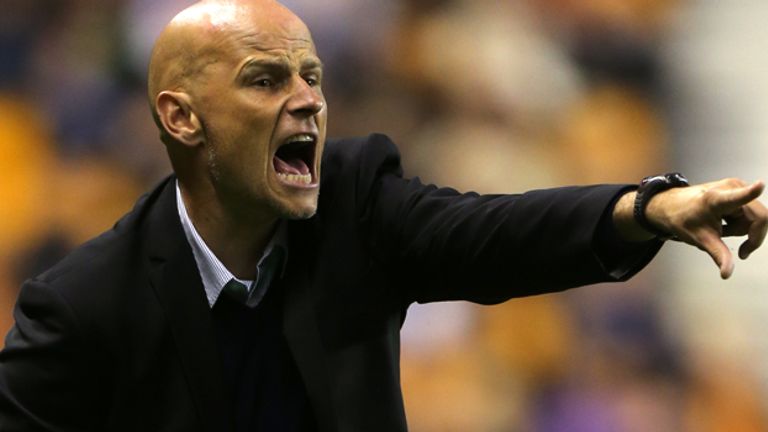 Tuesday's 3-1 defeat at Crystal Palace was third successive league loss and left them languishing four places above the drop zone.
Solbakken admitted after the game that the club was "in a crisis", adding that the players "must take responsibility".
However, despite the heavy criticism from the Norwegian, skipper Karl Henry and defender Roger Johnson have insisted the squad is determined to turn things around.
"We know the last three performances have not been good enough and as players we have to take responsibility for that," Henry told the club website.
"We had been on a decent run of results and have let ourselves and the fans down with the displays over Christmas. But that is certainly not down to a lack of effort.
"We have a squad of players who are giving their all and are fully behind the manager and what he is trying to do here to take the club in a new direction.
"Maybe the hangover after relegation has affected us more than we thought. Bolton and Blackburn are both around us in the table and I know that the last time Wolves were relegated they really struggled in the following season.
"But it is no good making excuses - while the Championship has changed a lot since we last played in it we have to do better and certainly a lot better than we have been playing at the moment.
"Everyone is still in it together from managers to backroom staff and players and that is the only way we will get back to form."
Johnson added: "We are all behind the gaffer and know what he wants from us. But he can only do so much - when we cross the white line we have to perform.
"We have done that in many games this season but collectively, in the last three, we have not been good enough. We should have used the Christmas period to push on after a few good results beforehand but instead it has gone the other way.
"Everyone in the dressing rooms knows it has not been good enough and we know for the fans it has not been good enough and now it is up to us to put it right.
"The manager takes a lot of the flak publicly but on the pitch it is up to us to go out and get results and that starts against Luton on Saturday."