Chief executive Jez Moxey has called on Wolves' players to step up to the plate
Chief executive Jez Moxey has urged Wolves' players to step up to the plate to bring the good times back to Molineux.
Last Updated: 07/02/13 2:05pm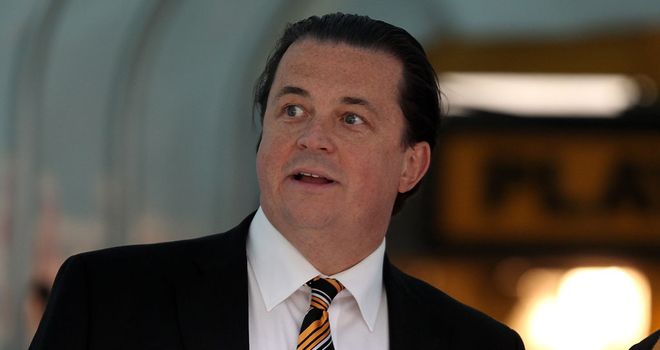 Wanderers have endured an awful past 12 months during which they have dropped out of the Premier League, been managed by four different bosses and now, 21st in the Championship, currently find themselves facing another battle to avoid relegation to League One.
Naturally, supporters have been keen to point fingers at those responsible, notably Moxey, but he insists everyone from top to bottom must take their share of the responsibility.
"You don't think I'm under pressure? Nobody puts me under more pressure than myself," Moxey told the club's official website. "But again people want scapegoats don't they?
"I'm not a popular figure, I am the pantomime villain - always have been always will be. I am perceived to be some Machiavellian figure who is not interested in the football and don't know anything about football. I've only worked in it for 25 years but I know nothing about it!"
Moxey continued: "We want to hear what they (the fans) are thinking and we know what they are thinking but don't forget the elephant in the room this season. And that's results - because we are not winning enough football matches.
"If you want to blame me for it, then that's fine. We will always front up and take our fair share of criticism and we take constructive criticism on the chin.
"We take our responsibilities extremely seriously but ultimately we have a team that should be good enough on that pitch. You can blame whoever you want but our players need to step up, simple as that.
"They need to look at themselves as we all do - we have all played a part - and say: 'We are now going to give something back to our supporters and to our football club and to ourselves, a bit of self pride', and demonstrate what they can do.
"If they can do that then this season will be looked back upon as a really difficult year for everyone but at least we can then get things sorted from next season onwards, with a new manager who will have been bedded in for six months, and start motoring on."