Wolves manager Dean Saunders is "in agony" trying to avoid Championship relegation
Wolves manager Dean Saunders has admitted to being "in agony" as he attempts to avoid relegation and the sack.
Last Updated: 24/02/13 5:51pm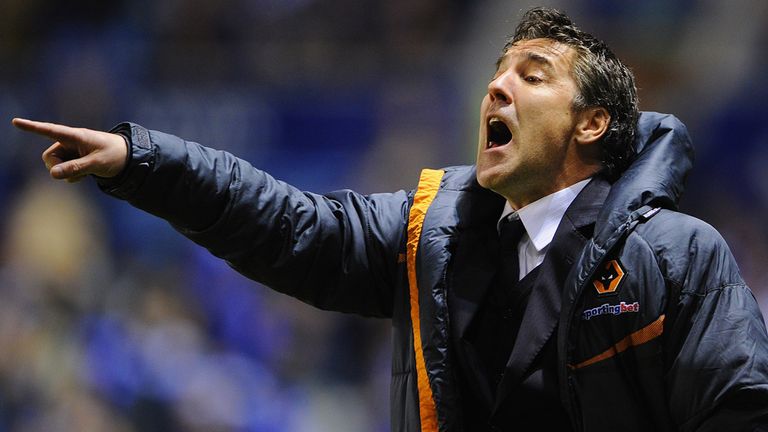 These are desperate times for Wolves who dropped into the bottom three of English football's second tier for the first time since October 1999 with Tuesday's 2-1 loss to Barnsley.
The club are currently on a run of 11 matches without a win, 10 of those in the Championship, and with the last seven - four draws and three defeats - since Saunders took charge from the axed Stale Solbakken.
A second successive relegation beckons unless Saunders can turn the situation around, starting with a tough ask against leaders Cardiff tomorrow at Molineux.
Saunders, speaking to the club's official website, said: "I'm in agony at the moment - it's my pride as well.
"I've never been sacked before and I'm not going to get sacked here.
"My old manager, Arthur Cox, told me that's what drove him on every morning - do what you can to do well so that you don't get the sack. And enjoy it while you can!
"I'm enjoying the job but it's agony. I'm trying to put things right in a short space of time and it's not easy.
"I would have liked to have thought that we'd have a few wins and be up and running by now. You have to fight your way through it and find a solution."
Cardiff boss Malky Mackay, meanwhile, has no doubts his players can dig in mentally over the closing three months of the season as they fight for automatic promotion to the Barclays Premier League.
The Bluebirds suffered their first defeat in 10 matches on Tuesday, and only their second at home all season, when they were beaten 2-0 by Brighton.
It was naturally a shock, and an 11-point lead at the top has been drastically cut of late, but Mackay has faith in those pulling on the blue shirt that they can hang in there on this occasion.
Despite play-off agony over the last three seasons in a bid to gain promotion, Mackay said: "I've no doubts about the mental strength of this squad, the way they have performed throughout the season.
"What they have given us when they have pulled on a strip has shown what they are made of."
Although the points gap to those behind has also dwindled of late, Mackay has no interest in that just yet, not with 14 matches to go.
Speaking to the South Wales Echo, Mackay added: "It's nice to have a cushion at any time in the season and you would rather be at the top than playing catch-up.
"We really just need to concentrate on what is in front of us. It's far too early to look at your points differential.
"That comes with three or four games to go. That is not something for this moment in time."
Mackay has no injury concerns, but Saunders is without Stephen Hunt with a chest infection, although fellow midfielder Tongo Doumbia returns after missing the last two games with a slight knee injury.