Wayne Hennessey is raring to play for Wolves after returning to training
Wolves goalkeeper Wayne Hennessey is raring to go after returning to training following long-term injury.
Last Updated: 26/06/13 10:50am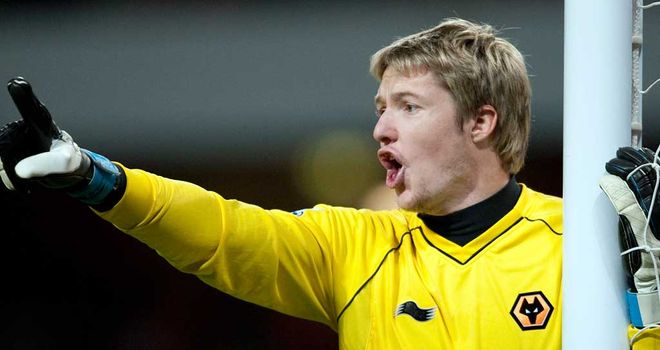 Hennessey has not featured at first-team level for 14 months after twice injuring cruciate knee ligaments but is back in training as he bids to get game time.
The 26-year-old Wales keeper is buzzing to be back and cannot wait to try and help fire Kenny Jackett's side back up to the Championship.
He told the Birmingham Mail: "It's been a while but now I am just feeling excited and focusing on playing again.
"I've missed a hell of a lot of football. The last game I played was in the Premier League. I'd like to get back in and show that Hennessey is back! I'm happy and buzzing."
Low
Regarding his injury hell, he added: "I was low when I got the injury the second time. It's over seven months now and I have got the leg stronger again. It has had enough time.
"I haven't had a holiday - I've been here at the training ground grafting to make sure I got myself right. I'd like to think I've done well myself to get back to where I am now.
"I think I'm a changed person now. You don't want to be injured, especially long term, but in some aspects maybe it helped me and I look at things differently now. I've learned a lot more about my body and what it needs and how I can keep myself in top condition.
"But I've also missed a lot of football, not just for Wolves but Wales as well. Hopefully now I can get back in and start doing what I love doing again which is playing football.
"I've missed it all so much, even going away with the lads for away games or on pre-season.
"I don't feel the knee now. Everything I've been doing in the last bits of my rehabilitation when I've been diving around again has been pain free. With a couple of weeks good training now, hopefully I will get some game time."