'I almost quit'
Having nearly walked away from the game as a teenager, Rickie Lambert's path to the Premier League is not one of the pampered modern footballer. The Southampton striker speaks exclusively to Sky Sports about his route to the top and the familiar sound of critics
By Peter Fraser - Follow me on Twitter @SkySportsPeteF
Last Updated: 19/08/12 6:57am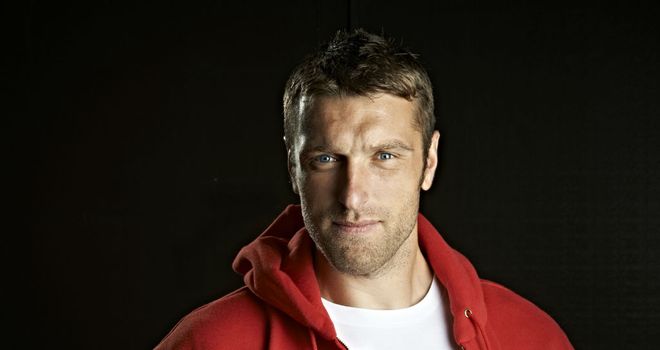 Rickie Lambert was three months ago yelling in excitement at his living room television as the incredible closing scenes of Manchester City's Premier League title win unfolded. "My wife, Amy, didn't understand why I was shouting so much, as I'm not a City fan," he explained. The Southampton striker knew he would soon be facing the defending champions as a top-flight striker but was also aware it could have been a very different story.
Back in May, still coming to terms with Southampton's automatic promotion from the Championship and as Sergio Aguero swung his boot against Queens Park Rangers, Lambert would not have been aware the fixture gods were preparing to serve up a trip to City on the opening weekend of the new season. But he would have fully acknowledged his personal journey.
Lambert's path to the Premier League has not been one of pampering and club nurturing, which is often associated to 21st Century footballers. At the age of 30, he is playing for his sixth club and has twice been released by separate employers.
As a teenager, he was in 2000 let go by Steve McMahon's Blackpool and then in 2005 he again parted company with a club after Stockport County decided they no longer wanted his services. A spell at Macclesfield Town came in between the two setbacks, while Rochdale, Bristol Rovers and then in 2009 stardom at Southampton followed.
However, Lambert's career could have been over before it began. After being released by Blackpool and spending four months as a free agent, he was set to walk away from football and go back to education. Instead of preparing on Sunday to spearhead Nigel Adkins' Southampton against City's champions on the back of 31 goals in all competitions and a status as the Championship's top scorer last season, he could have been facing the nine to five.
"After Blackpool," Lambert told Sky Sports in an exclusive interview when asked if at any point in his career he had considered quitting football. "I didn't want to but, obviously, I was finding it hard to find a club. I was going to join college. I can't even remember what I was going to do. I was joining college and then I managed to get in at Macclesfield. It took me a while to get a contract there and I just about managed to stay in football. There must be so many people like that who don't find a club, who go out of football."
McMahon was the man who gave Lambert the bad news at Blackpool. It would have been a crushing blow for a then 18-year-old and boyhood Liverpool fan to be dealt the setback by a former hero. But Lambert prefers to look at the bigger picture.
Potential
"He basically said I wasn't playing in the reserves," said the forward of McMahon. "The reserves were my way of playing football. If I wasn't playing in the reserves, I might as well have not been there. There were other people playing in front of me. I was only on a month-to-month contract anyway so it was easy for them to let me go. But the things which have happened like that have driven me on to be a success, keep on going and believe in myself when the times are hard. It's those moments that have helped me progress."
He added: "It has been a long journey. I'm 30. I wouldn't say I was old. I've played more than 500 games so I've played a lot and it has obviously taken a long time to get to the Premier League. But I am just so happy to get my chance. There have been ups and downs in my career. But since I joined Southampton it has been nothing but highs."
That brings the story full circle. The Etihad Stadium awaits. Lambert spent the summer celebrating Southampton's automatic promotion with the rest of his team-mates. He also got married to the aforementioned Amy who could not understand his enthusiasm for the drama of City's title win. After all of that, he then had the unusual experience of relishing the return to work.
"It was weird, actually, because you never look forward to getting back to pre-season," said Lambert. "But, for the first time in my career, I couldn't wait to get back and get started with training. I'm not a fan of the running, really, but I don't think many people are. If they are, they are lying.
"But, I've got to say, the pre-season which the coaching staff and the gaffer have put on has been brilliant. It's not long distance running anymore like it used to be years ago. It's all football now. It's still hard but it's enjoyable."
'The gaffer', Adkins, has spent the summer talking up Southampton's potential. There are long-term aspirations of Europe. Gaston Ramirez could be arriving for £12million. It is ambitious but, as Swansea City, Norwich City and Queens Park Rangers have demonstrated, promoted teams are no longer the certainties for immediate relegation they once were. There is no harm in thinking big and Lambert, likewise, agrees momentum is key following successive promotion campaigns from League One.
"We went in to last season and, even though we were confident in our ability, we didn't really know what was going to happen," remembered Lambert. "We ended up being in the top two all season. Obviously we've got full respect and understanding for the league we're going in to but we've got to take our confidence. The lads are buzzing. We think we can do well. We think we can more than compete in the league. Hopefully that'll keep us in good stead."
The important people
If Southampton are to surpass expectations, a lot will depend on Lambert. He will be relied upon to score the goals to keep the club away from the relegation zone. That would be a replication of his friend and former Rochdale team-mate, Grant Holt, who last season netted 15 Premier League goals to help a then newly-promoted Norwich finish 12th.
It had been questioned whether Holt could make the step up. But he silenced the critics and now Lambert wants to do the same. Both men play in a similar powerful and predatory style and obvious comparisons have been drawn. Lambert does not mind being likened to Holt and over the past couple of years has even been asking his mate for advice on how to tackle the challenge of England's various divisions.
However, Lambert will also not be losing any sleep over those who question his ability to make the grade in the Premier League. He has heard it all before.
"Not really," he said when asked if he becomes frustrated at his doubters. "I did a few years ago but I've become accustomed to the fact that's what I'm going to get in my career. It doesn't matter what I do in whatever league or whatever season, I'll always have questions for next season.
"Obviously, starting to play in a league in which I've never played, I can understand why there are going to be questions. But it's my job to try and do as well as I've done in the past.
"As long as the lads who I'm playing with, the gaffer and the fans - the important people - are happy with what I'm doing, then I'm happy with that. I know myself if I've had a bad game or a bad month. I'm my biggest critic.
"It's football. Because I haven't played in the Premier League or hadn't played in the Championship, people are going to question, 'can he do it?'. It doesn't really affect me. It doesn't really bother me. I just try and get on with my own game."
Hat-trick hero! Back a player to be top scorer and get a free bet to the value of your stake every time he scores a hat-trick. Ladbrokes, game on!