Lambert slams Adkins talk
Aston Villa manager Paul Lambert has labelled speculation surrounding the future of Southampton boss Nigel Adkins as 'ridiculous'.
Last Updated: 21/09/12 2:09pm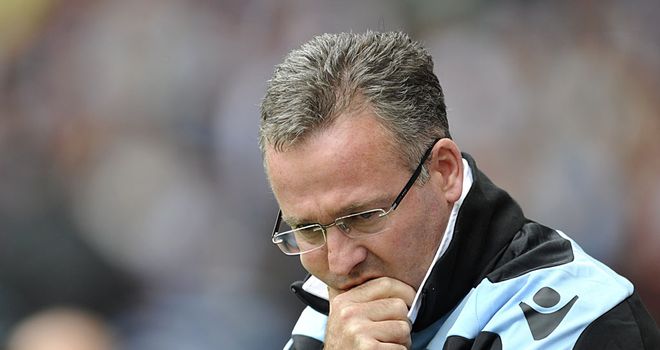 Aston Villa manager Paul Lambert has labelled speculation surrounding the future of Southampton boss Nigel Adkins as 'ridiculous'.
The newly promoted Saints are bottom of the table having lost all four of their Premier League games so far this season.
Their most recent defeat was a 6-1 hammering at the hands of Arsenal, making it 14 goals conceded so far this campaign.
That gave rise to speculation about the future of boss Adkins, who took over the club in September 2010 with the club still in League One.
They host Aston Villa at St Mary's on Saturday, with Adkins' opposite number Lambert all too aware of the pressures of top flight management.
The Scot only moved to Villa Park over the summer but immediately found himself under pressure following defeats to West Ham and Everton in his opening two games.
A draw at Newcastle and victory over Swansea last week has made Lambert's position more comfortable, and he admits he empathises with Adkins' current plight.
"It's getting a bit silly now," he said. "With what he's done for them, and when it's only four games into the season, I think it's a bit ridiculous. But football is like that - you just never know what's around the corner.
Unforgiving division
"It's getting harder and harder every year but I think that's really unfair.
"Nigel's done a great job at Southampton. In the last few years they have done fantastically well getting promoted twice.
"The Premier League is an unforgiving division. Every game is hard, whoever you are playing. It doesn't matter if it's a side in the top six or bottom six. It's a hard, hard league."
Lambert has also sought to calm expectation over the potential of summer signing Christian Benteke.
The Belgium international completed a £7million move from Genk on deadline day and came off the bench to score on his debut against Swansea last weekend.
Lambert admits Benteke is in contention to start against Southampton on Saturday but has warned the fans not to expect too much too soon from the youngster.
"Benteke is only 21, that's what you have to remember," the Scot added.
Excellent
"He's only a kid and he's just starting his career. But his role in the last 15 minutes or so against Swansea was excellent.
"He came over after playing a hard game for his national team in the week, coming back and playing for us, doing what he did, was excellent.
"He'll certainly give us a hand. There's no two ways about it - he's a big presence up there and his presence alone will un-nerve a few people. I was delighted with his contribution against Swansea, as I was with everybody's. The whole team was excellent."