Back in the big time
Alex Dunn talks to Southampton's Jack Cork about about life back in the Premier League and how he got there. The influential schemer has cut a frustrated figure through injury so far this season but has been encouraged by how his team-mates have coped on their return to the big time
Last Updated: 04/10/12 12:07pm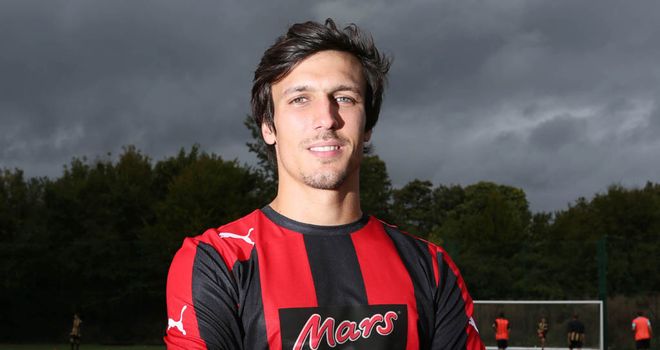 You've not had much luck with injuries of late - how far off are you from getting back on the pitch?
The injury's alright, not too bad. It's a little bit frustrating as I thought I was coming back from the ankle injury when I did my knee and it's going to be another month now. To work so hard last year to help the club back into the Premier League and then miss the first couple of months has been a bit depressing.
I guess it couldn't have come at a worse time given you've had to miss the big kick-off?
Especially as we've played three of the biggest teams in United, City and Arsenal already. Obviously these are the games you want to play in most. But I've been pleased for the rest of the lads and they've deserved their chance. Hopefully they can set about picking up a few more points as they've been playing well without always getting the results.
Are you a good spectator? Or are you one of those players who can't sit still in the stands?
To be fair, I've actually enjoyed watching the lads. It might become harder if things don't improve in terms of results in the next month. At the minute, there is enjoyment you can take from watching your team-mates against some of the best players in the world. For all that though, it is frustrating. You can't get away from that. I'd love to be out there playing. I'm pleased with how they're acquitting themselves though.
How have you been spending your time away from the training ground?
I've not been doing much, it's a bit restrictive. I tend to watch a lot of films and to be honest I've spent most of the time on the sofa. My girlfriend was running round after me, which was good, but she's just had her appendix out so we're both crocked at the minute. We make a right pair. The dog is getting fed up, just looking at us and barking.
As a player you're in quite a unique position in that you've been able to assess what's happened so far this season from a more detached viewpoint -what are your overall impressions?
I think the boys have done really well but it's just a shame the games so far have mostly been against the best teams. It's always going to be hard when you're the promoted team but they've acquitted themselves well. Hopefully against the sides that aren't quite as powerful we'll start to pick up more points.
What did you think Southampton have learnt from their first six games?
It is a hard league, there's no getting away from that. You can't make mistakes, and that's something we need to cut out as much as possible. Sometimes it can feel as if you've got more time on the ball but as you get further up the pitch it becomes more and more difficult to break sides down. The major difference I've found, and to be fair to date I've only played in the Premier League for Burnley, is that the sides you play against are a lot more organised. To create chances is difficult, while at the other end if you make mistakes you normally get punished. You've got to be switched on from the start - that's the major lesson we've learnt. With the standard of players in the Premier League if you're not at the races you'll get punished straight away. That's something we've learnt the hard way.
How important was it to get the first win under your belts? Does the fact you did it in such an emphatic manner against Aston Villa give you extra confidence?
The hardest thing is always to get your first points. The first few games were frustrating but there's a sense in the dressing room that we can kick on now after the Villa win. It wasn't just a lucky three points but quite an emphatic win against a big club who are established as a Premier League side. Against teams like Villa, especially at home, we need to be getting results. We've always believed, but actually getting a result proves we can do it in the Premier League and that's important.
A few people have been surprised with just how open Southampton have been so far. Is that just a case of you still finding your feet in the Premier League or has the manager told you to keep playing in the expansive manner that got you up?
We've played as we did all last year, and the year before that. We scored a lot of goals in that time and the feeling is 'why should we change the way we play before we've given it a go?'. The manager has encouraged us to play our football and to attack. We've obviously conceded a few too many goals and that's something we're looking to iron out but the overall plan hasn't changed. The manager will always ask us to attack a team, that's just the way he is. And to be fair we have scored goals, even against the big teams.
It seems to be a trend over the past few seasons that promoted clubs are doing better than their predecessors on their first stabs at the Premier League. Did the success of Norwich and Swansea, and to a lesser extent QPR, last season give further cause for optimism?
It's good to look at clubs who've made such a good job of adjusting to a higher division, and think about what parts of their strategy you can look to copy. Swansea have been brilliant. It can be done, we're all confident about that, but it's a case of accepting it'll be a hard season. We need to battle and play to the best of our abilities, but if we do that there's no reason why we can't stay up and push on thereafter. We can be a success in the Premier League, I'm convinced of that.
Nigel Adkins seems convinced by his philosophies on how the game should be played, that must be music to your ears as a ball-playing midfielder?
I was with Nigel at Scunthorpe the first year I spent away from Chelsea. He was good to me then and during that time it was Andy Crosby who was the captain, who has since become Nigel's assistant at Southampton. He's a good manager and that he encourages his sides to play football is great for me on a personal level. I do enjoy playing under him.
It seems ridiculous that prior to the Villa game there was talk of Adkins being under pressure, after five games, on the back of successive promotions but there were murmurs. As a player, what's your take?
There's always going to be talk, especially in the Premier League, about managers' jobs. Nigel has done brilliantly for us over the past few years and, to be honest, I don't think there's really any need to talk about it. His record speaks for itself. He been great for the club and when you take into account who we've played this season there's no need to make kneejerk reactions. He needs time to see how he can get us playing further down the line.
How aware are players of the rumours that circulate? Does it affect you?
That's football. People are quick to make conclusions. It is hard, not just for managers but for players too, but that's the game and it's always been the same. You have to take the criticism, and there is a lot of it, but it's worth taking as it makes you appreciate the plaudits even more when you do well.You touched upon your time at Chelsea earlier. You were a bit nomadic in those days but you must feel settled now on the South Coast having played every game last season?
It's good to be settled. I had a few years of going out on loan and to be honest I wasn't sure where it was going. Living in hotels and not knowing where you'll be from season to season can be difficult. It was great to play so many games last year, which makes the injury so much more disappointing, as I don't normally pick them up too often.
Southampton were one of the clubs you went on-loan to while at Chelsea (he played 23 games in 2008). During your first spell did you think it was a club you could see yourself at on a permanent basis?
It's a really good club. When I was here before things weren't really going our way though. The chance came for me to work with Brendan (Rodgers) again at Watford so I went there. I definitely knew though when I was here last time that it was a club I'd be happy to go back to and to help them get up last year meant a lot. It was great considering the contrast with how things were when I left last time.
When you left Chelsea were you always confident of getting back up to the Premier League?
That's always the aim. It was always going to be a hard choice to decide when to leave Chelsea. When you leave a massive club like Chelsea obviously there are doubts as to how it'll work out. Thankfully when I joined Southampton we got promoted in my first season. It's just one of those things. It was hard work last year but great to be part of.
In many ways you took a step back to move forwards, from your own experience would you encourage young players to seek regular football elsewhere if they're not getting it at a big club?
I loved it at Chelsea, it was great being part of a club with world class players and the best coaches and managers in the game. But at the same time I wasn't playing and at that age I knew it was matches that I needed. I'd recommend for any kid to out on loan to gain that experience or even leave when the time is right if you're not getting a look in. As much as I enjoyed my time at Chelsea ultimately it was frustrating. There's no substitute for the real thing and you're never going to make the step-up until you've played first team football. There's a big difference between the two. I learnt a lot though, not just in terms of football but in that I moved away from home and my family and had to cope on my own.
Is it a shock to the system going from being favourites in most games to more likely underdogs? Do you have to change your mind-set?
Last season we weren't favourites to go up. We came out ourselves expecting to win games but it wasn't the case that other sides thought the same about us. Hopefully we can take that mentality into games this season, even if at times we have tough spells. We've been a successful team for the past two seasons and I don't see why it should change this year.
What do you feel is a realistic aim for this season?
I know that with the players we've got we should be staying up - after that it's just a case of how far we can go. It will be good to take stock at Christmas, assess where we are, and work out exactly what we need to do in the second half of the season. The lads are good enough to stay up, I'm convinced about that, it's just how far up we can finish.
Southampton have given it a real go in terms of their spending over the summer. Is there a sense at the club that you can really kick on and establish yourself in the top flight?
I know that's the long-term aim for the chairman. To stay up is the immediate aim then we can look to build. It's a good time to be at the club. We're all happy to be back in the Premier League and there's a sense we're all pulling together. The board have shown ambition in how they've backed the manager and want to establish us as a top division side.
Signing Gaston Ramirez for £12million was clearly a signal of intent. The early signs suggest he should be a quality addition - is he a player you know much about?
I've seen quite a lot of Gaston. He looks to be a really good player. Some of the stuff he's doing in training is unbelievable and I saw him in the Olympics too. To have players of this quality in your squad and as a team-mate is great. Gaston is the type of player that gives you the flair you need to break sides down in this league. He seems to have settled almost immediately. It's good to know the club have that much belief in us as group that they'll spend big money to add to the squad. As players, to know that the club are willing to pay for people like Gaston, gives you confidence and makes you excited about what could happen in the future. It's the type of ambition that makes successful clubs.
Another player who has joined for big money is Jay Rodriquez - you played with him at Burnley. Was he someone you saw as a potential Premier League player back then?
I was at Burnley with Jay for the best part of a year-and-a-half. He's a cracking player and scored a lot goals when I played with him - even more in the Championship last year. He'll score goals of us, I'm sure of that, but just as importantly he'll work the line and graft. I knew he'd be a Premier League player, for sure. I think most of the lads at Burnley thought the same. He was only 20 when I was there and the way he'd take on players at that age and hold the ball up was brilliant. I wasn't the only one who thought he'd make it.
In terms of his shape he's not vastly different to Rickie Lambert. Can you see similarities in the two players?
In some ways I can see that. Jay's got a bit more pace than Rickie but they're both hold-up players who can score a mixture of goals - from the spectacular to the tap-in. What I like about them is that whether it's outside the box, inside or with their head there's a variety to their play that can get you a goal from nothing.
It's impossible to talk about Southampton and not ask about Rickie. How good is he and does he tire of people saying he won't cut it in the top flight?
Every season people say of Rickie 'can he do it at this level?' Every year he scores five in the first month to silence his critics and ends up with 25 to 30 goals. Hopefully he can do the same this year to fire us to safety. When people ask 'is he good enough for England?' there's only one way to find out. If you pick him then you'll know. He's scored goals at every level below the Premier League and now he's going it there so I don't see why not. He wasn't supposed to score in the Championship and got 30.
Lambert has been talked of a possible England player and Adam Lallana got a call-up for the last squad. How much of a boost is it see a Southampton player make the step-up to England?
When Adam got the call it was great, I was so pleased for him. He was so good for us last season and even when I was at the club before it was obvious he was going to be a player. He's a great lad and deserves his call-up for making us tick last season. If he can do it again this year he'll have earned his chance.
At 17 and playing regularly in the Premier League, is James Ward-Prowse another name we should be keeping an eye on?
He's done really well so far, especially when you consider he's been playing against some of the biggest clubs in the world. We've him, Shawy (Luke Shaw) and Gareth Chambers all with the first team and they've really impressed me this season. Prowsey has proven that if you're good enough you're old enough and you'll get your chance.
To be fair Southampton don't have a bad record in terms of producing their own top quality young players...
I think that's something they're very keen to keep doing. It's great for the kids who watch us to see young players come through the ranks and hopefully it'll inspire them to get involved in the game. I think it's massively important. It's hard at the big clubs for young players to get that chance but at Southampton we've got a great record of blooding kids. It should stand us in good stead as the best young players will know that if they're good enough they'll get a chance here. It's a good club to be at if you're a young player, there's no doubt about that.
Mars and the FA are offering a week of free Just Play Sessions across the country from 8th Oct. Search online for Just Play to find your nearest centre.