Nigel Adkins has urged Southampton to turn St Mary's into a fortress
Nigel Adkins has urged Southampton to make St Mary's their stronghold as they try to overcome their stuttering start.
Last Updated: 07/10/12 5:02pm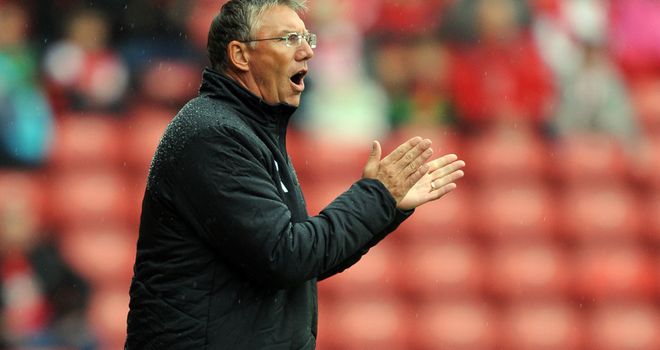 Saints have stuggled to adjust to the demands of playing in the Premier League and their solitary win came at home against Aston Villa last month.
The south coast side's fine form at St Mary's last season propelled them to automatic promotion and Adkins hopes his side can kick-off a similar run when Fulham visit on Sunday.
"It is a match we can lose, but it is a game we're going to look to go and win," he said.
"You have to be positive at home. We have been very good at St Mary's over the last few years and again starting this season.
"The atmosphere in the last home game when we beat Aston Villa 4-1 was electrifying. It was fantastic. The supporters lifted the players, the players lifted the supporters so everyone was together as one.
"We produced an excellent performance and got an excellent win. We're under no illusions, though, as Fulham are going to be a tough team to beat.
"We don't think we're just going to turn up and going to win. Fulham have had a very promising start. They're very organised, have good players and have won games this season.
"We know we've got to be at the top of our game, like every game in the Barclays Premier League, but we've got to go and look to win our games at home."