Nigel Adkins admits Southampton need to start getting results in Premier League
Nigel Adkins is keen to promote 'the Southampton way' despite acknowledging the need to start picking up results
Last Updated: 20/10/12 8:09pm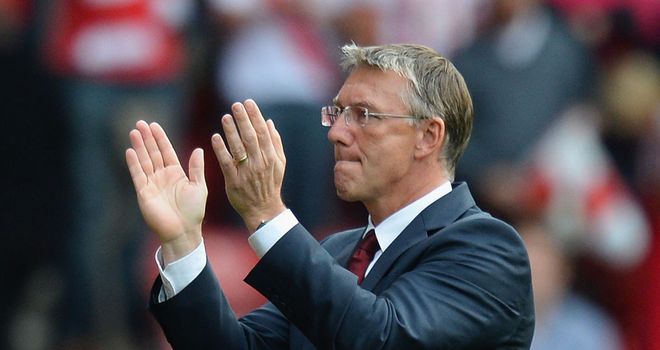 Saints have managed just one win in seven games since returning to the top flight and they visit West Ham on Saturday refreshed after the international break.
Adkins feels their time off came at the right time and he hopes to start climbing the table soon, hopefully with a positive result at Upton Park.
"We're trying to marry everything up. In every game, the objective is to win so we've got a find a way to do that," Adkins said.
"We want to have a certain brand of football, but maybe it's going to take a bit of time to do that and to get it perfectly.
"That's a process we've got ensure we concentrate on because we believe that's the way to give ourselves an opportunity to remain in the Barclays Premier League.
"It's a fine line, because if we want to stay in the Barclays Premier League then we've got to win games of football - but we can't sacrifice the principles and the vision we've got here.
"The international break has been a good opportunity to have a week to reflect and look back on what we've done so we can reconfirm what we want to do in the future and make sure we're on track with that.
"There was a planned opportunity for us to reflect on what we've done, who we've played, how we've played, the players we've picked up, the goals we've scored, the goals we've conceded and whether we're keeping ourselves focused on what we want to achieve."
Very effective
On Saturday's opponents, he added: "It was a great for both football clubs to get back to the Barclays Premier League.
"We went up via different avenues last season, but it was great that we both did it.
"They've had a great start to the campaign and are in the top ten at this moment in time. They're very effective in how they play.
"I've got a lot of respect for [Hammers boss] Sam Allardyce and what he's done in football.
"I've loved listening to him over the years when I've gone on coaching courses and he's presented because he's full of knowledge that you can pick up."