Nigel Adkins does not fear for his future as Southampton manager
Nigel Adkins insists he can turn around Southampton's fortunes and says there has been no talk about his future.
Last Updated: 08/11/12 5:34pm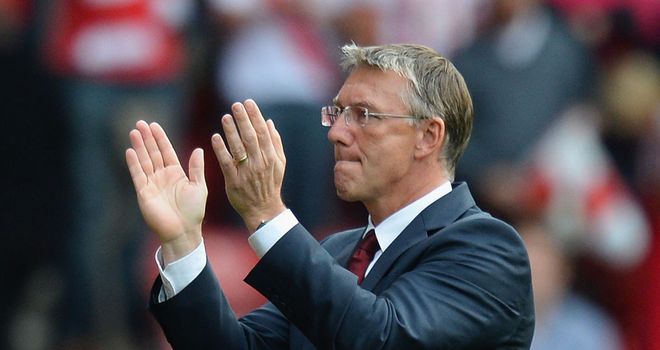 Southampton have struggled in their first 10 games back in the Premier League with only one win and four points so far, conceding 28 goals in the process.
Reports suggested he was about to be relieved of his duties by Nicola Cortese, but Adkins talked up his relationship with the club's executive chairman and he sees no reason why that would change.
"The relationship between me and the chairman is very good, which is an important one at any football club," he said.
"I would imagine there would be loads of speculation about different things, but it is strong and it is good. We talk regularly as we have always done and we're determined to make this a success.
"There is no need to speak about my position. It is a football club determined to be successful. We obviously spoke in the summer about our strategies and we're working very hard.
"We've now had 10 games of the season and obviously only picked four points up. We sit at the bottom. That's fact, that's reality. As we always do at the football club, we assess situations. We have to accept where we are but then we look forward and move on.
"We're obviously looking at the next run of games. We take one game at a time in respect to the next one which is at the weekend against Swansea. We are focused on winning that.
"Let's not hide away from the fact that in football at some stage there is always a parting of the ways between a manager and a football club.
"I am determined to be a success here at Southampton Football Club, the chairman is determined to be a success here at Southampton Football Club so we both share the same ambition. What we do is we get on. There doesn't need to be any talk about it. We will be a success here."