Nigel Adkins accepts Southampton are in a relegation dogfight
Nigel Adkins accepts Southampton are in a "relegation dogfight" as they prepare for a crucial run of fixtures.
Last Updated: 09/11/12 2:28pm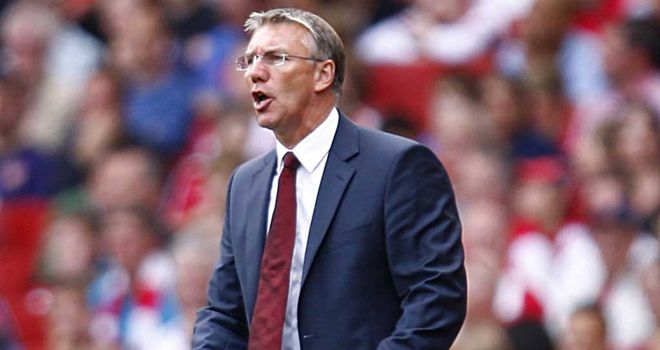 The Saints have struggled on their return to the top flight and have lost eight of their opening 10 matches, but Saturday's home game against Swansea is the first of five home fixtures in a six-week period.
"We've got to start getting points on the board," Adkins said. "We're in a relegation dogfight and we're fighting. Everyone is well aware of that.
"We've got to have that winning mentality that we've had for the last few years at the football club.
"We've just had 10 games. We've assessed where we are, we have to accept the situation but we've got to keep moving forward.
"I've changed things around. We're going to have a different stimulus by going away for a couple of days.
"I think that is good. Change the routine of groundhog day, if you like. There is a different stimulus for everybody and we come into the weekend's game which is the important one.
"After that there will be another one and another one and another one."
Saturday's game could also see much-vaunted left-back Luke Shaw get his first Premier League start.
The 17-year-old, who has attracted reported interest from the likes of Arsenal, Chelsea and Manchester City, came off the bench in Monday's 2-0 defeat at West Brom for his first top-flight appearance.
Adkins said: "He might have figured a little bit earlier but what we've got is a young player with huge potential.
"What we've got to do is nurture him correctly because he is still a young boy who is growing up.
"What we have to do is extract as much potential out of him and he has got to do that himself. I believe he has got a good environment where he can do that."