Rickie Lambert says Southampton need to stick with manager Nigel Adkins
Rickie Lambert says Southampton must cut out the mistakes to keep Nigel Adkins in a job and the club in the top flight.
Last Updated: 17/11/12 2:34pm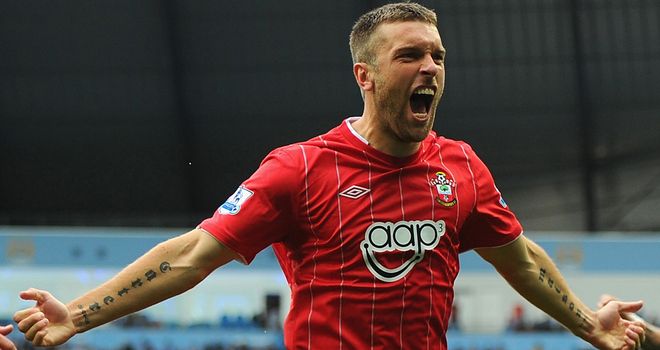 Saints, who face fellow strugglers QPR on Saturday, put in a sterling performance against Swansea last weekend before a defensive mishap allowed the visitors to snatch a point.
The result left Adkins' side just one point above bottom-placed QPR and Lambert is keen to relieve the pressure on his manager, who he believes remains the right man for the job.
"I definitely want him to stay," the striker said. "He looks at me to try and lead the team as well and I am trying to obviously help him.
"I understand he is under pressure but it is not nice, it is not his fault, you know what I mean? It's all of our fault.
"It's little, little errors that are costing us at the moment but I think some of the performances this season we've deserved more points with what we've got.
"We've got the points we got, we know why we got them points but we can still believe we can turn it around.
"We know it is a big game, we know the circumstances of both teams, where we lie and how big three points will be for either side.
"We do understand that it is a big game but we're going about it like it's any other game, try to prepare like we always prepare."