Adam Lallana desperate to impress boss Mauricio Pochettino
Adam Lallana is eager to return to the starting XI for Southampton and prove his worth to manager Mauricio Pochettino.
Last Updated: 09/02/13 4:53pm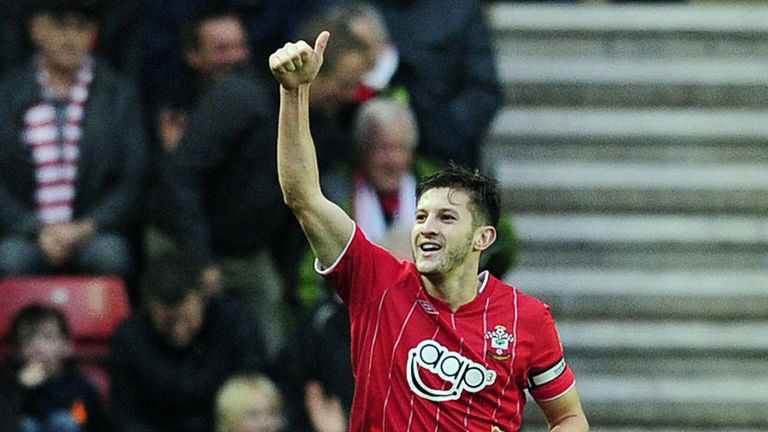 Lallana could make his first start in a month on Saturday when Saints go looking for a first win in three under their new boss against champions Manchester City.
Now fully fit after suffering a knee injury in the 1-0 defeat at home to Reading on 8 December, Lallana is keen to help his side in their battle against relegation.
"I have been itching to get back now the whole time," said Lallana. "I've been there or thereabouts the last three or four weeks and I've made a couple of appearances off the bench.
"I am fully fit and eagerly hoping to get some time from the start, whether I do, we will find out on Saturday. I was injured when Alan Pardew left the club and Nigel Adkins came in so I've experienced similar to this.
"It was frustrating because you want to get out there and prove to him your worth, really.
"He has been great and the language barrier is not an issue. You communicate fine and his assistant Jesus Perez, Miguel D'Agostino and goalkeeping coach Toni Jimenez can all speak English well.
"It is great and I am so far thoroughly enjoying my time under the gaffer."
Despite having not yet secured a first win in English football, Pochettino's team have received plaudits for their style of play and Lallana believes the former Espanyol boss has already "put his footprint" on the team in the few weeks he has been in charge since replacing Adkins.
"We approach the Man City game how we have approached our previous three games under him," the midfielder said. "There have been some positive performances, we just want to turn them into points because that is the only way we're going to get up the table."