Southampton goalkeeper Artur Boruc leaving contract talks to agent
Southampton hero Artur Boruc insists he will not allow uncertainty over his future at the club affect his performances.
Last Updated: 12/03/13 2:31pm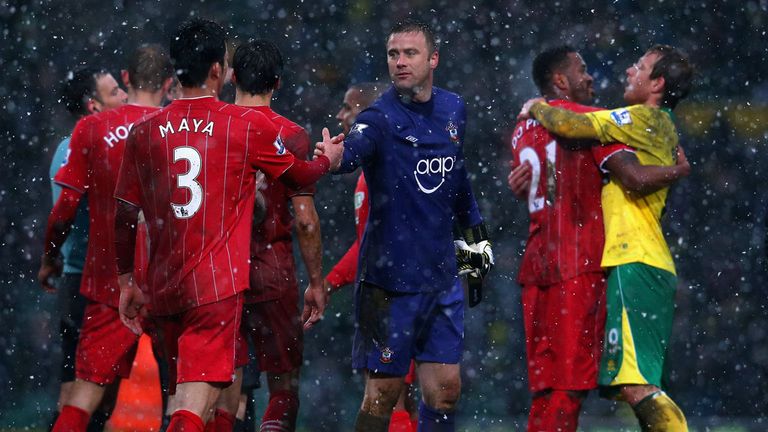 The 33-year-old goalkeeper secured a point for the Saints at Norwich on Saturday with a stoppage-time penalty save from Grant Holt.
The celebrations contrast with the criticism earlier in the campaign when Boruc was said to have thrown a water bottle into the crowd after being barracked following an error against Tottenham.
Boruc, signed on a free transfer after leaving Fiorentina in September, is out of contract in the summer, but remains relaxed about his long-term future
"I will leave it to my agent and the club," he said. "I am just doing my best and I'm working hard, so we will see what is going to happen."
Southampton's draw edges them further towards Premier League safety after a disappointing home defeat to bottom-club QPR last time out.
"It's always important not to lose," added the Poland international. "We are working hard and I think we have shown in the last couple of games that we can play good football.
"We don't look like a team who should be relegated and that's the main thing. We are quite confident. I think it's a matter of time and we are going to grab points."
Southampton coach Mauricio Pochettino, who replaced Nigel Adkins in January, believes Boruc has earned his second chance at the club.
"We should focus on Boruc's save at the end of the game because basically it meant one point for us," said the Argentinian coach. "We all have something that we have done in the past.
"At Southampton today we have three very good goalkeepers. Artur and Kelvin (Davis) have shown that they have experience and we have a young keeper in Pablo (Gazzaniga)."