Michael O'Neill: Let me stay on and make Northern Ireland a force again
Michael O'Neill wants the chance to make Northern Ireland a competitive force in European football again.
Last Updated: 21/03/13 6:51pm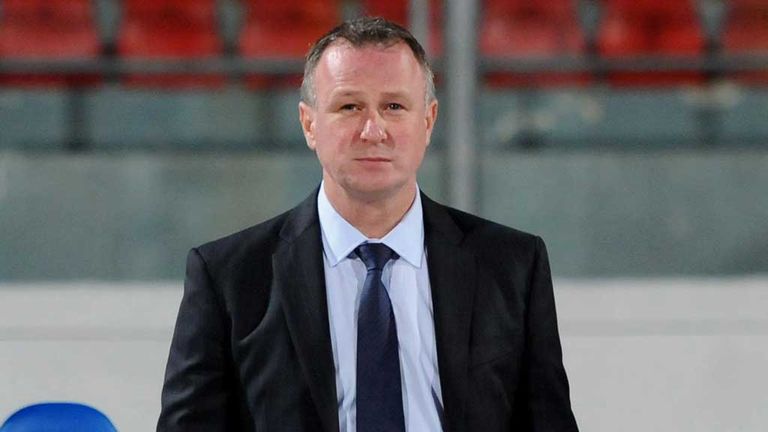 O'Neill goes into Friday's World Cup qualifier against Russia in Belfast still looking for his first win since succeeding Nigel Worthington as manager.
The 43-year-old's deal is up at the end of this year but he believes, given time and a contract extension, qualification for a first major tournament since 1986 is a realistic aim.
"The job for me was always until the end of this campaign but I have enjoyed the challenge," he said.
"If the association felt they wanted me to continue to the Euros I would do it, simple as that.
"It takes you six months to learn the nature of the job and what's expected. The relationship with myself and the players is strong and can only continue to develop. Certainly, I would welcome that opportunity.
"I've been in the job a year and we've only had 22 days to work with the players, so that's a challenge. You have to mould a team.
"We'll always be a team that is more than the sum of its parts. In the period of time we have had with the players that's what we have tried to work on.
"I believe this is a group of players who can win games at international level, be competitive and, given time, can get the opportunity to get close to qualification for a major tournament."
O'Neill's immediate aim is to overcome a Russia side with four wins from four in Group F - thriving under Fabio Capello and without former captain Andrey Arshavin.
He said: "I think the biggest difference is that Capello's Russia work harder than Advocaat's Russia.
"I saw them in the Euros under a different manager and the players who have come in since then give Russia a higher work ethic than they have when Arshavin plays."
Lessons
Russia won the reverse fixture 2-0 in September, and Irish captain Steven Davis believes lessons must be learned from that game.
He said: "When we played in Russia we didn't see a great deal of the ball and that might be the same again, so when we do get chances we know we are going to have to be clinical."
The template, as far as Davis is concerned, should be October's 1-1 draw in Portugal - comfortably the most eye-catching result of the O'Neill era.
He said: "Of course, the going to be very difficult but we will use our performance in Portugal as the benchmark.
"Giving the fans a night like that game in Portugal was a massive lift but we won't underestimate just how tough it is going to be against Russia.
"Like I have said, I think the performances have been good without getting a little bit of fortune along the way. What is important for us is to use everything we have to our advantage."