Everton forward Steven Naismith has no regrets over Rangers exit
Steven Naismith has again defended his decision not to transfer his contract after Rangers were liquidated.
Last Updated: 06/05/13 12:01pm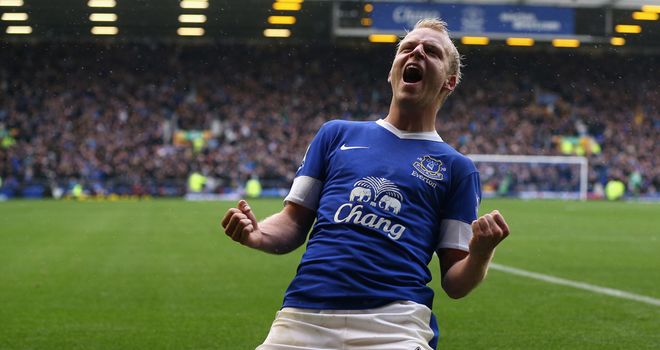 The 26-year-old was one of a host of players, including Steven Whittaker, Allan McGregor, Kyle Lafferty and Steven Davies, who walked away from Ibrox after Green bought assets such as the stadium and training ground.
Naismith has been criticised by Green and others involved with the Third Division club, but the Scotland international insists he and the other players who quit have been proven right.
Majority shareholder Green recently stepped aside from his role as chief executive at the club, after allegations of involvement with Craig Whyte, who was the owner of Rangers prior to their liquidation.
"Mr Green worked hard to try and discredit the players who left. He publicly attacked myself and the others who chose not to accept his offer," Naismith said.
"But time seems to be offering a clearer perspective on why players like myself chose not to sign over the control of their careers to this man.
"I wonder how many people today, knowing what they know, would think it a good idea to just sign away the best years of their career to Mr Green?
"When Mr Green sent a lawyer's letter telling me to TUPE over to Sevco, as Charles Green called it, I had never met him.
"I had the option of choosing to be employed by a man and owners who I didn't know and had little reason, if any, to trust.
"I take pride in the fact I was one of the first players to agree to give up 75 per cent of my wages to try and save the original Rangers."