Efe Ambrose backs Gary Hooper and Victor Wanyama to succeed in Premier League
Efe Ambrose has told Sky Sports he expects Gary Hooper and Victor Wanyama to be huge successes in the Premier League.
Last Updated: 30/07/13 11:18am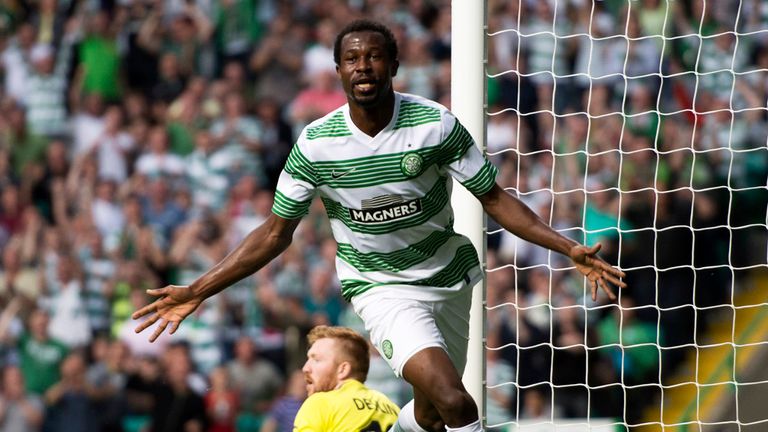 The 24-year-old only joined the Scottish champions last summer from Israeli side Ashdod, but he quickly became a key figure in Neil Lennon's side and he is already being linked with a switch to the Premier League.
Ambrose, who is reported to be attracting favourable glances from the likes of Liverpool and Newcastle United, admits that he has a lot to thank Celtic for.
"For me yeah, the Premier League is something I would like in the future and you never know but for now I am only thinking about Celtic and doing my best for them," the Nigerian international told Sky Sports.
He admits that the pressure could be on him this term to perform even better given the departures of Hooper and Wanyama, who have joined Norwich and Southampton respectively in recent weeks.
"The fans have been great for me, and they will be looking at me this season, but I know it isn't just about me and, although I have only been here 11 months, I know how important it is and what it means to be a Celtic player.
"The manager makes sure we are aware of that."
Although Celtic have lost two of their star players, Ambrose is confident that they can be replaced.
"They are good players, and we lost Thomas Rogne to Wigan too and they are all good players but Celtic is a team, not just individuals," he said
"These two have gone, but I believe the president and the manager are working hard to replace them and to bring players in that make us better, but as I said this is a team and we will work hard as a team."
Ambrose, though, wished both his former colleagues well and has tipped them to achieve big things south of the border.
"They will both make it in the Premier League, it is a big challenge but it is a great chance for them to show them how good they are but I think they will make it to the very top," he said.
Ambrose has come a long way in recent years, but he is very much keeping his feet on the ground.
He continued: "I thank God and my family and my team-mates for getting me to where I am. It is not just me who is responsible for where I am today, thanks to all that and everyone that has helped me become a better player and I look to continue that belief throughout my career."