Lallana's ambition
Southampton captain Adam Lallana tells Sky Sports about his World Cup dream amid his club's subtle success under ambitious Argentine boss Mauricio Pochetino
By Peter Fraser - Follow me on Twitter @SkySportsPeteF
Last Updated: 23/08/13 10:25pm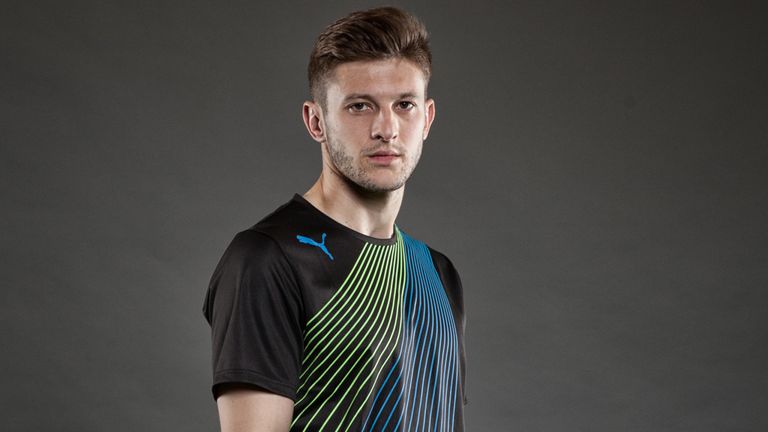 Rickie Lambert's achievements over the past fortnight have been pure motivation in the realms of football. But, away from the striker's cliched comic book exploits, his Southampton club-mates hold their own burning ambitions.
Unless you were living under a stone at the beginning of this season, you will be well aware of Lambert's dream week. In the space of four days, he scored the winning goal against Scotland on his England debut before also securing victory for Southampton in their Premier League opener.
However, Southampton are not a one-man story. Having been substituted off, Saints captain Adam Lallana was last Saturday watching from the bench as a last-gasp penalty from Lambert, surely now the world's most famous former beetroot factory worker, defeated West Bromwich Albion.
Lallana understandably spoke after the final whistle at The Hawthorns in gushing terms about his club colleague and role model. But there is more to football than simply talking the talk. Lallana wants to fulfil his own objectives.
Amid a positive first season in the Premier League in 2012/13, when he helped Southampton comfortably avoid relegation by five points in 14th position after their return to the top flight, the now-25-year-old was selected for Roy Hodgson's England squad for last September's World Cup qualifier against Ukraine.
Lallana was an unused substitute in the 1-1 draw at Wembley but the fact Hodgson has been keeping an eye on the discreet progress of a subtly exciting Southampton squad - for which Lambert is a prime example - is encouragement enough. This is particularly the case in a season which could end with next summer's World Cup.
"Exactly," said Lallana excitedly regarding a possible place in Brazil when speaking at the launch of pumafootballclub.com ahead of Saturday's game against Sunderland. "That is the carrot at the end of the season. You want to have a good season and the rewards are massive.
"It gives every English player the confidence and belief that we are being watched. It shows if you work hard and play well, the rewards are there."
Lallana, though, knows he needs to continue to raise his game. A return of just three Premier League goals last season at a goals-to-shots ratio of just eight per cent offers plenty of room for progress while the same can be said of a cross completion of only 16%.
"I feel like I am improving all the time," said the winger, who was in between double training sessions on the day he spoke to Sky Sports. "You can set yourself targets but you just want to go with the flow. I want to improve on last season's goals tally and maybe create a few more as well. I am always looking to improve and get better as a player - as is the club."
Indeed, Southampton have been catching the eye with their ambition, which has included summer spending of almost £40million and has most recently seen Italy international Daniel Osvaldo arrive from Roma.
Many consider the South Coast club as dark horses for an impressive campaign having seen the advancements made since ambitious Argentine manager Mauricio Pochettino succeeded Nigel Adkins in January. There is plenty of potential.
"We just want to go about our business quietly," said Lallana. "But we are fairly confident we can stay in the division and improve on last season's position. I do not think we set any exact targets but if we look towards the top half of the table and can sneak in anywhere there, it would be a really successful season."
Pochettino is continuing to mould his squad in terms of shape and personnel, with Dejan Lovren and Victor Wanyama having arrived before Osvaldo. Lallana is well aware the eye-catching arrivals mean competition for places and, it is hoped, raised standards as a result.
But former Argentina international Pochettino's overhaul is not just in terms of his signings. His tactical changes are also on-going as he continues to ask his team to play the high-line press upon their opponents.
Such tactics saw Chelsea, Manchester City and Liverpool among the teams run ragged and defeated at St Mary's last season and Lallana is relishing the challenge to apply the mentality of his boss.
"Maybe it was a little bit of a shock but every manager has their own ideas," said Lallana of the change in Southampton's tactics. "It is hard work but it is enjoyable. As a forward-thinking player, that is where you want to receive the ball. It has proven a good way to play. We obviously picked up a good result last weekend and hopefully we can have more results like that."
Lallana added: "Mauricio is such a good guy. That is partly why he gets the best out of his players, because of the relationship you build with him. He has as much respect for his players as his players give him. He is a very hard working guy as I think he was as a player. We have all benefited."
Adam Lallana wears the ultra light PUMA evoSPEED 1.2. It's in his nature to be Supersonic - blink and he's gone. Lallana has filmed exclusive PUMA Football Club training videos helping you to create a yard of space to score more goals. Head to facebook.com/PUMAfootball #PUMAFC