World Cup: England boss Roy Hodgson admits fear plays a part as he rallies players
Roy Hodgson has admitted the pressure is on England but has urged his players to show the spirit of Rome 1997.
Last Updated: 10/09/13 7:28pm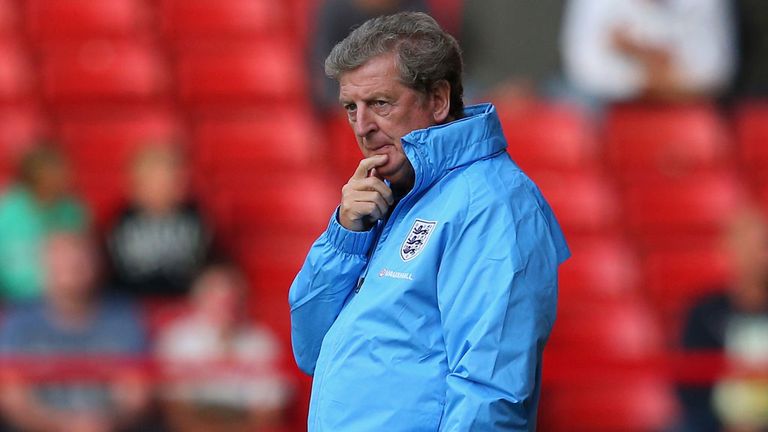 Defeat in the stadium where England's Euro 2012 dream ended against Italy last summer and the very real possibility of missing out on their first World Cup since 1994 will start to loom large.
A draw or victory, however, would put England in pole position to reach the tournament in Brazil and Hodgson is taking inspiration from past performances.
Looking back to a goalless draw against Italy 16 year ago which saw England through to the World Cup, Hodgson said: "There are similarities. I remember the game very well. I was there working for Sky that day with Bobby Robson.
"It was a tough task for England. We were up against it for a long period and it looked as if things weren't necessarily going to go our way.
"But we stuck together, dug ourselves in to get a good result and if we can do something similar I'll be as happy as I was leaving the Olympic Stadium in Rome that evening."
Hodgson added: "Of course there is pressure. We are getting closer to the situation where we are either going to achieve our goals and qualify for the World Cup or we are going to fail.
"You cannot get away from that. But what does discussing and admitting it do?
"What would you like me to say in answer to the question? I don't feel any pressure and I couldn't care less? Or I can't sleep a wink and I'm frightened to death we are going to lose?
"Fear does plays a part in our lives. It plays a part in people's lives outside football.
"If you've got ambition to do your job well the fear that things might not go the way you'd want them to is always there.
"Sometimes you've got to be bold enough to trust in what you can do."
Hodgson has confirmed there will be only one change to his line-up from the side that beat Moldova 4-0 on Friday, with Rickie Lambert continuing in attack in the absence of Wayne Rooney, Danny Welbeck and Daniel Sturridge.
Hodgson could not wish for Lambert to be in more confident mood after becoming the first England player to score in his first two games since Peter Taylor 37 years ago, but he also knows the run cannot last forever.
"I would like to play down Rickie for his own sake because it is almost a fairytale that you get selected at 31 having played in the lower leagues, then come on in your debut and score a fantastic centre-forward's goal," Hodgson said.
"On top of that you then play an important game, score one, set up two and look as though you have never been outside an England set-up in your life.
"That is some achievement.
"I am bit worried we are going to hang a bit too much on him (against Ukraine).
"The important thing is that he plays his part in the team and makes certain he doesn't let us down in any way.
"Who knows? He might surprise us and add a third to the fairytale, but if he doesn't he is still going to be a player England will get some use out of in the future."
Hodgson admits that Lambert has been underestimated throughout his career, including by him, but has paid tribute to the Southampton striker's character.
"Rickie's mentality must be very strong," Hodgson said.
"Surely he hasn't just become a talented footballer who has good touch on the ball, works hard for his team and has a good understanding.
"Yet people, including me, have been watching him play and passing him over.
"You have to be very strong mentally to suffer that many knock backs but still keep believing in yourself, to keep saying 'no-one is singing my praises but I am still a good player'."