Spot on
How do you deal with the pressure? How important is practising technique? Sky Sports asks penalty kings Darren Bent and Matt Le Tissier along with a leading sports psychologist for the secrets
By Peter Fraser - Follow me on Twitter @SkySportsPeteF
Last Updated: 08/10/13 9:50am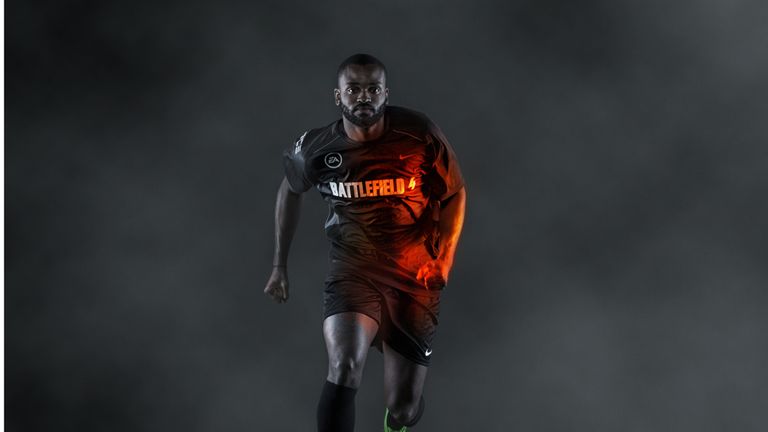 From Sunday League to the World Cup final, penalties are a peculiar, fascinating and engrossing dimension of football. Whether it is in a shootout or during a match itself, the different elements involved in spot-kicks influence every ability and emotion.
Scoring from 12 yards takes skill. It is a notorious, pressurised and unique situation of drama. In a team sport, it creates a one-on-one situation against the goalkeeper. The associated external factors, such as the importance in a match situation or presence of a crowd, can reduce even the most-talented players on the planet to anxious wrecks.
Famous penalty failures throughout history have included Chelsea's John Terry in the rain-soaked UEFA Champions League final of 2008, Italy's Roberto Baggio rocketing the ball over the crossbar in the 1994 World Cup final, or England's Gareth Southgate in the semi-finals of Euro '96.
In contrast, players who are able to cope both mentally and physically with the weight of expectation, remain confident in their practised technique and shut out the status of a penalty-saving expert goalkeeper can become icons.
Legendary penalty-takers have included Antonin Panenka and his chipped conversion to win the 1976 European Championship for Czechoslovakia, England favourite Alan Shearer scoring 45 times from the spot for Newcastle United, or Chelsea's Didier Drogba keeping his cool to win the 2012 Champions League.
Sport psychology over the years has researched in depth the way in which players can be affected by the pressure of taking a penalty and the methods of effectively coping, whether that is in mental rehearsal or the use of 'cue words' - such as 'balance' or 'rhythm' - to help shut out external influences and increase focus.
At the same time, there is the football old adage that 'you cannot practise penalties' or the 'lottery of the shootout'. But scientists have discovered the physical act of practising penalties under pressure, as well recreating the environment of a match scenario, is vital for success.
What are the realities in professional football and the secrets to taking the perfect penalty? We asked two famous penalty specialists, Fulham striker Darren Bent, speaking at the launch of the Battlefield 4 Beta, and now-retired Southampton legend Matt Le Tissier, along with a leading sports psychologist, to find out.
Bent, who is on loan at Fulham from Aston Villa, has only ever failed with three penalties in the Premier League, all of which were saved by former Tottenham Hotspur team-mate Heurelho Gomes - two of them in the same game. Meanwhile, Sky Sports pundit Le Tissier phenomenally scored 47 of his 48 professional penalties, with his only failure being a saved effort against Nottingham Forest's Mark Crossley in 1994. Here is their guide to penalties...
Darren Bent - Premier League Penalty Record
 
 
Opponent
Penalties Taken
Penalties Scored
Birmingham
1
1
Bolton
4
4
Hull City
1
1
Liverpool
2
2
Man City
1
1
Newcastle
1
1
Portsmouth
1
1
Tottenham
4
1
West Brom
1
1
West Ham
1
1
Wigan
1
1
Wolves
2
2
Total
20
17
Believe In Your Technique
Darren Bent: "Because I always know where I am going to put the ball when it comes to a penalty, even before the game, I will just be thinking about hitting the target. I will always put penalties to the goalkeeper's right. I feel, if I do that, I am putting the ball away from him. I always watch the ball and the goalkeeper in my run-up. I tell myself that the most important thing is hitting the target. If I do that, even if the goalkeeper saves the ball, the rebound might come to me."
Matt Le Tissier: "My initial thought was to always put the ball to the goalkeeper's left as my failsafe. That enabled me to make it very easy, if the goalkeeper moved to that corner, to change my mind without doing anything too drastic. I could just whip my ankle around the ball a little bit more to send the ball to the other corner."
Embrace The Pressure
DB: "I put the ball down and focus on beating the goalkeeper. You can hear the fans singing or shouting but all you can do is focus on a clean connection with the ball. I do not really talk to myself. Nerves do not really affect me in penalties. My reputation as a good penalty-taker does not add pressure either. As a goalscorer, I think about the fact that, if I score, it is a goal which can help the team win. The main thing is scoring the goal for the team and getting another goal for your personal record."
MLT: "I used to get a few butterflies in the stomach when the referee first blew for a penalty. But then I would think, 'this is the best chance I will get to score all game'. To deal with the nerves, I would imagine the crowd celebrating the goal. I would then be relaxed and try and be aware of everything around me, such as the goalkeeper's position. I had pretty good peripheral vision, so I was able to concentrate on the ball and have a good feeling for where the goalkeeper was moving. It was only at the end of my career, when I retired, that people seemed to realise I was good at penalties, so my reputation did not add any extra pressure."
Try Not To Worry About The Goalkeeper
DB: "If I have another penalty against Gomes, all match I will be thinking, 'oh, no, I have missed a few against this guy before!'. Other than that, all goalkeepers are the same. There are no bad goalkeepers in the Premier League. Some are physically bigger than others but if you hit the ball true and in the corner of the goal you want, nine times out of 10, you will score."
MLT: "I did not take any notice of the goalkeeper, his reputation or which side he dived. I never went into any of that. If I did my job properly from 12 yards, the goalkeeper is not going to save it no matter who is in goal. Goalkeepers have a better chance of saving penalties in the modern day with all the research. In the past, you did not have that kind of attention to detail. That information was probably available in my playing career but people were not thinking that deeply about it."
Practice Makes Perfect
DB: "I practise hitting the ball and finding that specific corner of the goal. Hitting the target is the main thing. I do not do research on goalkeepers. Even if you scuff the penalty and the goalkeeper dives the other way, it is still the perfect penalty. If you hit the ball as cleanly as possible into the corner and the goalkeeper saves it, then he is the match-winner."
MLT: "I did not practise all that often but I would practise if we had gone a few weeks without a penalty. That practice would normally entail getting the youth-team goalkeeper, who was not on a lot of money at the time. I would tell him that for every penalty he saved I would give him £5 or £10. I think you can recreate the pressure of a match scenario if you put yourself under that pressure whether it is financial or peer pressure. It makes you focus."
Keep The Faith If You Miss
DB: "You have just got to think to yourself that you will stick with your technique and have belief. It is like a game of chess, because you know the goalkeeper you are playing against has seen your penalties before. So, you have to think to yourself, 'does the goalkeeper think I am going to change my shooting direction?'."
MLT: "At the time, missing can shake your confidence a little bit. But it is like riding a bike - once you fall off, you have just got to get straight back on. So, when the next penalty was given after I missed, I went back to my normal routine and did the same thing in terms of mental preparation. I think I responded pretty well, because my one and only miss was my 21st penalty out of 48 and I scored the next 27 in a row!"
Whether on purpose or by accident, it is clear both Bent and Le Tissier have methods of coping with the pressure. In Bent's case, this is in focusing on his technique and making sure he connects cleanly with the ball and hits the target. Bent, along with Le Tissier, also focuses on mentally picturing the rewards of scoring.
At the same time, both players do not worry about the opposition goalkeeper, apart from Bent's poor record against Gomes. They also do not over emphasise the benefits of regular practice. That is slightly unusual but when they do train they believe it is important to recreate the match situation and add some pressure to the scenario.
The irregular practice from players who have excellent penalty records would contradict some previous research on penalties. But what is clear is the serious attitude of the players when it comes to their focus on training for penalties, whether that be in technique or recreating pressure.
Sports psychologist Dr Andrew Manley, who works at the famous Carnegie Faculty of Leeds Metropolitan University, offers similar advice to Sky Sports. But Bent and Le Tissier's relaxed approach to their reputations as successful penalty-takers would also contradict some research conducted in Scandinavia, which Dr Manley references.
Dr Andrew Manley, Sport and Exercise Psychologist
Carnegie Faculty, Leeds Metropolitan University
"If you wanted certain characteristics in a person if they were going to be a successful penalty-taker, it would be for a high work ethic. A lot of people say you cannot practise penalties, because you cannot recreate the crowd and the feelings you would experience. But what you can do is make sure you are well rehearsed in everything you do.
"If you prepare well for those situations and you are aware of what is likely to happen, when you do experience it, you are better off than if you were completely unprepared. So, rather than just the physical act of practising penalties, it would be important to rehearse what a crowd might feel like, imagine if you felt the nerves, and make it part of your routine to develop strategies to deal with those scenarios.
"Some research in Norway has also found players with a status as award-winners or top performers tend to do worse in taking penalties, perhaps because those players are more aware of the harmful consequences of failure to their status or reputation. The thoughts in the mind of a player before the penalty are also key. If there is a high degree of importance on penalty success, coupled with the thoughts of missing the penalty, it is likely to lead to failure. On the other hand, if the player can see themselves scoring and they approach the situation with confidence, they drastically maximise their chances of scoring the penalty. Ultimately, the more control that players can exert over their thoughts and feelings in pressure situations, the more control they are likely to have over their physical actions and subsequent outcomes of pressure-filled performance scenarios, such as penalty-kicks."
Darren Bent was speaking at the launch of the Battlefield 4 Beta, available to download NOW on Xbox 360, PlayStation 3 or PC from Xbox Live, PSN and Origin. Watch the trailer for the Beta version of the ever popular first person shooter series here