Premier League: Rickie Lambert says Southampton looking to improve further
Rickie Lambert says Southampton will not 'stand still', with continuous improvement sought in a promising campaign.
Last Updated: 12/11/13 11:01am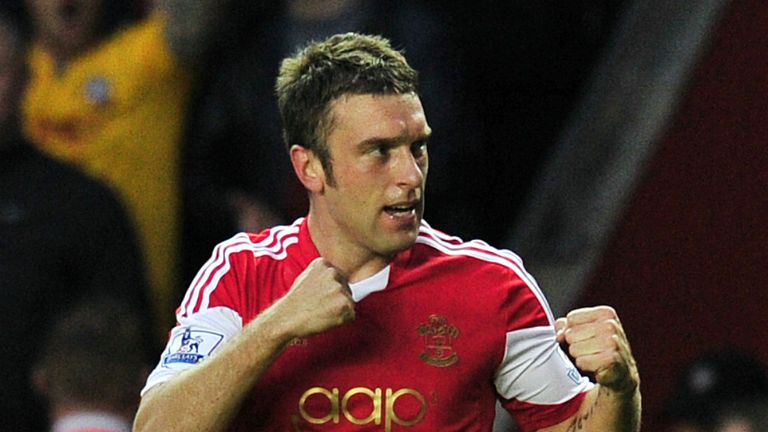 A bright start by the Saints has brought murmurings of a potential push for Europe - maybe even a top-four challenge.
Just one defeat has been suffered in 11 games so far, and only five goals have been conceded - giving them the best defensive record in the Premier League.
All of that has added up to 22 points and a third-place standing.
Saturday's 4-1 mauling of Hull City saw Mauricio Pochettino's side put in arguably their best display of the season so far, but Lambert claims there is the promise of more to come from an ever-improving outfit.
The England international told the club's official website: "You're always worried about complacency, but we were determined not to let that sneak in.
"We want to improve every week and, even though we played so well last week, that's gone and we had to do it all over again. That's where the determination came from in each and every player by the gaffer to keep on pushing, keep on improving, don't just stand still.
"There are a lot of remarks made from a lot of people, but I don't think we've been too bothered about them for the last four years and we're certainly not going to be looking at any headlines now because what we're driving for is to do well for ourselves and anyone who writes anything - it's up to them.
"We know what we're trying to do and we have the belief and determination to do it."
Lambert, who will be hoping to play a part in England's friendly double-header against Chile and Germany, netted his fourth goal of the campaign against Hull and was delighted to be on the scoresheet again in front of the watching Roy Hodgson.
He added: "I want to score in every game, I've always said that, and that's what I'm always looking to do. It was a penalty this time, and it was an important goal.
"I'm obviously just happy that I'm helping the team and I thought it could have been more than 3-0 at half-time because we were that good.
"Adam Lallana put in an unbelievable performance, and I thought he played really well. I think that tops everything from this season by him that I've seen - he was frightening.
"It was good to know that [Hodgson] was there to witness just how good he is. He made us tick, everything went for him, and he deserved his goal, but it was unbelievable the way he took it."