Rickie Lambert enjoyed watching his Southampton team mates line up for England
Rickie Lambert thinks his Southampton team mates Adam Lallana and Jay Rodriguez performed well on their England debuts.
Last Updated: 16/11/13 1:22pm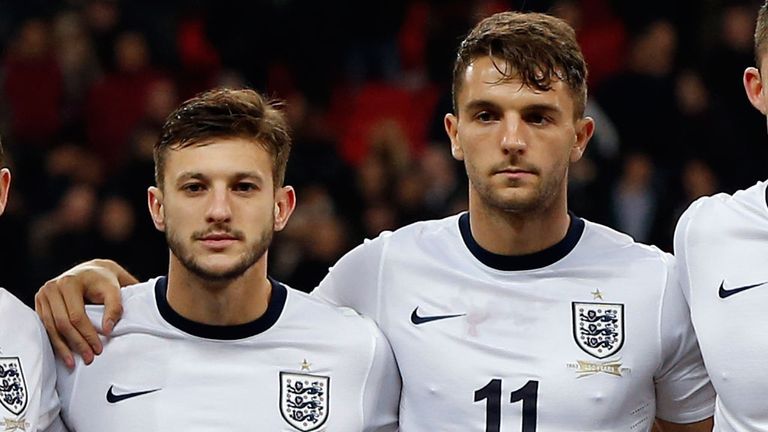 Lambert came off the bench to score the winner in a friendly against Scotland when he made his debut in August but had to miss Friday's game against Chile due to injury.
His club mates Lallana and Rodriguez were in the line-up at Wembley but finished on the losing side, as an accomplished Chile team ran out 2-0 winners.
But Lambert said: "I thought they did well in a very hard game.
"They are disappointed they have lost but I don't want to say that tainted their debuts.
"I was willing them on, I was made up for them, and I was so proud. They would obviously have liked to have been in a winning team, that is the same as anyone.
"But I said to both of them after the match that it was a very good Chile side they came up against. It's just harsh that the first international has come against such a good team."
Lambert praise for Forster
Goalkeeper Fraser Forster also made his England debut on Friday and he played alongside Lambert when he was on loan at Bristol Rovers in 2009.
"I gave him my congratulations after," said the Southampton forward. "It's a great achievement to get your first cap and he couldn't really do anything about the two goals.
"I think he did well. He was a good keeper at Bristol Rovers and now he has progressed into a great one.
"I have been watching him in the Champions League and some of the saves he has been making have been trop drawer."
England have another friendly against Germany on Tuesday night and Lambert is optimistic that he will be available
"Hopefully I will be OK for training on Sunday," he said.
"Obviously it would be a great game to be involved in, I just have to try and get fit."