Southampton's Dani Osvaldo still getting better, according to Mauricio Pochettino
Mauricio Pochettino has hinted there's still more to come from Dani Osvaldo after his superb goal against Man City.
Last Updated: 09/12/13 3:02pm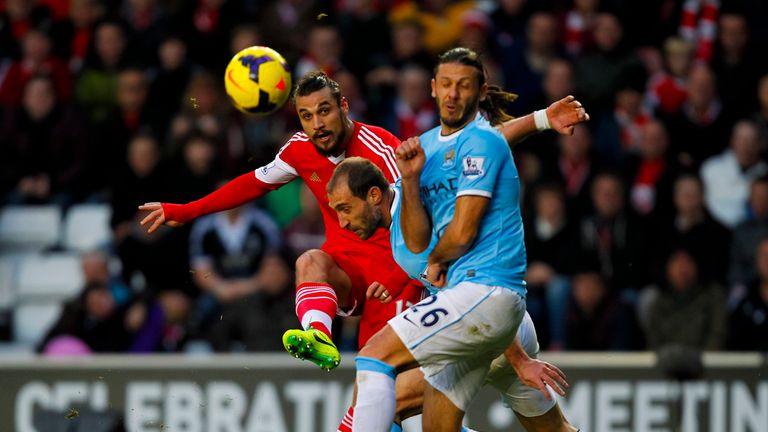 Osvaldo's superb 42nd-minute strike earned Southampton their first point in four games as they drew 1-1 with Manchester City at St Mary's Stadium.
It was the 27-year-old Italian's second goal in as many games, taking his tally to three since becoming Saints' record signing in the summer.
But Pochettino says his £15million man is still getting to grips with English football.
He told the Southern Daily Echo: "He's a player that's growing. He did very well.
"It's not easy to adapt to this league, especially for a player that's coming from abroad.
"He needs time to adapt, he needs patience and he showed that adaptation process is paying off."
Osvaldo's recent form in front of goal will no doubt have caught the attention of those involved with the England squad as well.
The former Roma man could feature for Italy, who will play England in their opening World Cup group game on June 14.
Pochettino thinks Osvaldo's presence in England could be a blessing for Roy Hodgson.
He said: "He's a very important player for the Italian national side and it's actually very good for England that he is playing here, that he can be analysed and watched over and over again so you guys are aware of his danger."
Pochettino admits his forward deserves his fiery reputation, but he puts that partly down the passion the player shows on the pitch.
He said: "It's true - and his reputation, he has actually earned it.
"He has a full character, full of passion, he has a big heart and is full of fire inside and he needs that to perform as he does.
"He's a player also that is growing.
"He's learning, he's maturing as a player and we're very happy with his performance and overall with his general behaviour."