Premier League: Southampton striker Rickie Lambert credits development to Alan Pardew
Rickie Lambert credits Alan Pardew for motivating him to improve his fitness and pursue his international ambitions.
Last Updated: 14/12/13 12:34pm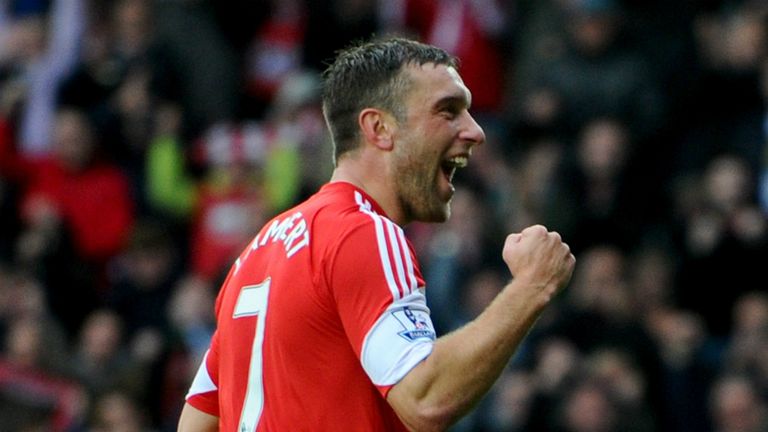 Lambert, who was handed his England debut in August, has not enjoying the smoothest journey to the sharp end of the game.
Aged just 10, Kirkby-born Lambert was signed by Liverpool before being released five years later after failing to secure an academy contract.
Rejection sent Lambert down the ladder of English football as he had trials with non-league Marine FC before being snapped up by Blackpool in 1998. Spells with Macclesfield, Stockport, Rochdale and Bristol Rovers followed ahead of teaming up with Pardew at then League One Southampton in 2009.
Lambert concedes that upon his arrival at St Mary's he was far from the model professional but insists Pardew, whom he faces as Southampton take on Newcastle on Saturday, inspired him to improvement.
"Looking back, I was one of the unfittest professional footballers you will ever see," Lambert told the Independent.
"I was a YTS lad. I just thought that that was my way, that I was this kind of athlete. It wasn't until I came to Southampton that my attitude changed and I had to do something about it. I got to the right club at the right time in my career. I was obviously a very determined man at that age.
"I was desperate to do well, desperate to be higher than League One. And I managed to show everything at Southampton, where everybody felt the same as me. It was the perfect match. It just happened at the right time."
Philosophy
Pardew, who spent £1million on Lambert having spotted the potential at Bristol Rovers, outlined his expectations of the then "overweight" 27-year-old.
"He did do a lot for my career," he added. "He gave me the kick that I needed. I'll always be grateful for what he did.
"I learned at every step but when I came to Southampton my all-round game just improved massively."
Lambert has played a pivotal role as the Saints rose from League One to reach the Premier League, averaging a goal every other game at St Mary's and admits the intense approach of Mauricio Pochettino is what is making them compete in the top flight.
"It is just the philosophy," Lambert said. "It wasn't easy to get to grips with. I have played 'the English way' for most of my career, getting stuck in and that.
"Perhaps he emphasises that in a different way. It was the same message, just different techniques that he has used in training. It is more a philosophy that he wants to get across.
"I know a lot of managers have used that word, but that's what he put across and we took it in. It was either dismiss it or give him everything."
Belief
After a prolific start to the season which saw Southampton grace the top three, a run of three successive defeats in four games has left them eighth in the standings, but Lambert insists the gap between leagues is not as vast as many suggest.
He added: "When you are in League One and Two I think you do believe that it [the Premier League] is a million miles away, a completely different world. But it's not. There is a difference but there is not as big a gap as you imagine.
"Obviously the atmosphere in the big grounds is amazing. When I was younger it might have affected me but now I'm older I'm able to take it in the right way.
"I constantly think back to those days and that's why I appreciate it so much. It's only my second season [in the Premier League] and I'm loving every minute of it. I definitely don't want to let it go any time soon."
While many focus on the progress of Arsenal, Chelsea, Manchester City and Manchester United, Lambert refuses to rule Southampton out of the title race, claiming: "I think it's about who believes it the most.
"It's so close, anyone can win it. My mindset has changed massively over the past four years. I would never have believed I could have done what I have, or the club. But we've done it so I'm never going to rule out anything."