Premier League: Calum Chambers says Southampton don't need big-money signings
Calum Chambers says Southampton will not need big-money signings to propel themselves towards European football.
Last Updated: 21/12/13 1:01pm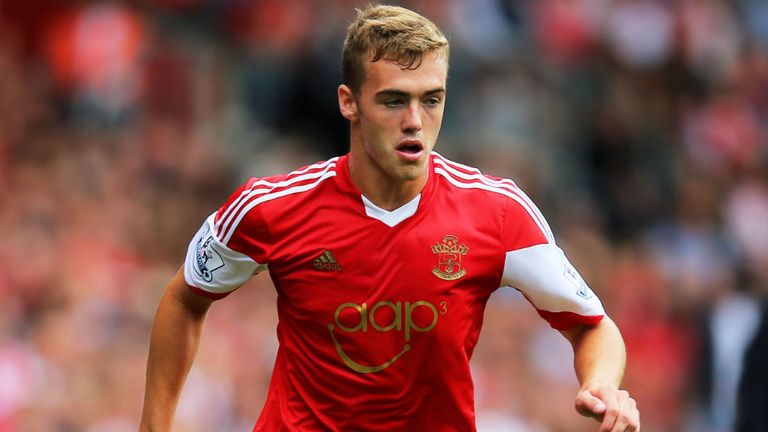 Right-back Chambers, 18, is one of Saints' home-grown talents playing first-team football and he says the club's famed academy will provide the players, rather than the chairman's chequebook.
Chambers graduated from Saints' academy at the same time as first-team peers Luke Shaw, James Ward-Prowse and Harrison Reed.
All four teenagers tasted Premier League action in Saints' 1-1 home draw with Manchester City on December 7.
And Chambers says boss Mauricio Pochettino's faith in youth can help Southampton break the Premier League top-four, if not this year then in the future.
"The academy has got such good coaching and grounding, anyone coming through it is brought up the Southampton way," Chambers said.
"Against Manchester City, we had three people I've been with at the club since I was seven years old, on the pitch with me at the same time.
"It's fantastic. To play in the Premier League... it betters everything you think of, to be honest with you. Playing in front of everyone and playing for the club I've wanted to since I was a young boy, it's a dream come true, there's no other way to describe that feeling.
"The manager believes in the young players and thankfully for us, they are giving us opportunities.
"The gaffer's given me my opportunity to play in the Premier League and I can't thank him enough for that.
"I think we're good enough to do it, and if we can play the way we can, there's nothing stopping us.
"If we play the best we can, we're better than most teams in the Premier League. And I think we can get the results we need."