Premier League: Mauricio Pochettino insists no Southampton youngsters will leave
Southampton boss Mauricio Pochettino insists he has no intention of selling any of his young players in January.
Last Updated: 30/12/13 5:37pm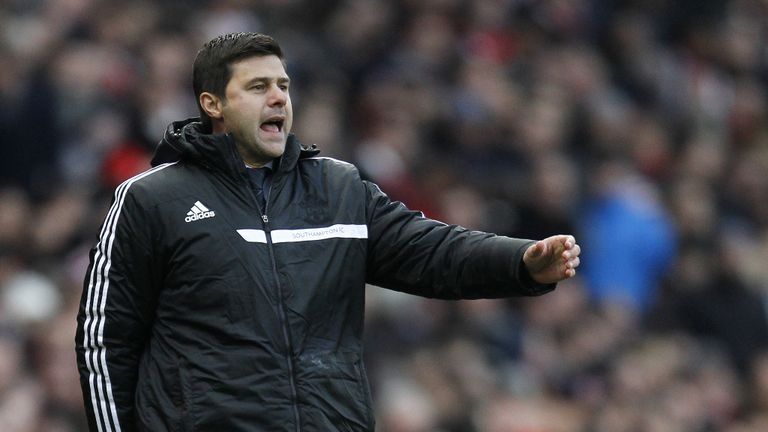 Luke Shaw, James Ward-Prowse and England international Adam Lallana have all attracted attention from a number of leading clubs but Pochettino is adamant no-one will be leaving in the January transfer window.
The Argentine coach believes he is building a team for the future and selling his prized assets 'makes no sense at all'.
Speaking ahead of Wednesday's home game against Chelsea, Pochettino said: "Our idea is very clear... no young player is to leave this club.
"We want to keep our young players here which is the whole process of nurturing them and maturing them.
"We want to make them play, to have more experience, we want them to make mistakes, to learn in the Premier League - that's very important for the process.
"I think it would be contradictory to go all the way through this process then just sell them off. That doesn't make any sense at all."
And Pochettino believes the 'young, friendly' image of his side has seen them come out on the wrong end of a number of refereeing decisions this season.
A number of their famed academy players have been introduced into the team this season - with Shaw, Ward-Prowse and Lallana starting in Sunday's 2-1 defeat at Everton, a match in which Pochettino felt his side were harshly treated.
He is convinced Saints should have had at least two penalties at Goodison Park but insists they are the latest in a long line of decisions which have gone against his team since August.
"I was angry about some of the refereeing decisions," he said. "There was not one, but actually two clear penalties not given to us.
"We have been suffering all season long. Many injustices have gone against us. It is easier to referee a Southampton side that are all young, friendly players.
"It is very easy to have decisions not go for us. It is a lot easier to have decisions to go against us. We just want Southampton to be refereed with the same rigour as all other clubs are judged.
"We want the same treatment as all other clubs. Nothing better, nothing worse - just the same.
"We don't want to be judged by the young, handsome players that we have. We don't want to be judged in that sense. We just want it to be fair, basically."