Premier League: Rickie Lambert insists Southampton are on the up
Rickie Lambert insists Southampton have put their mid-winter blues behind them after the 3-0 win at Fulham.
Last Updated: 02/02/14 2:51pm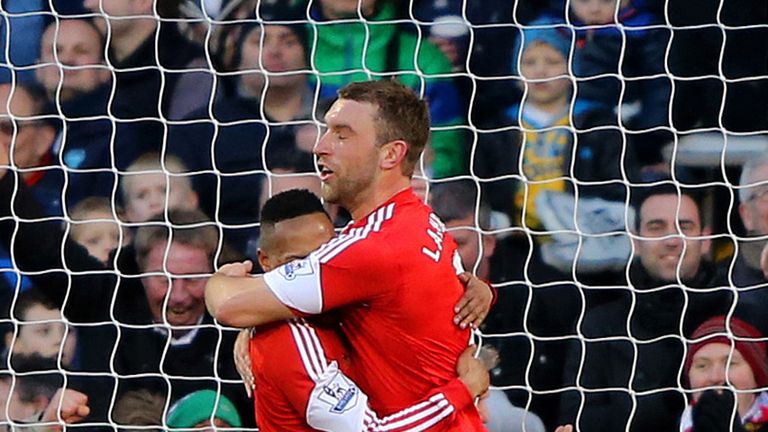 Southampton looked to have recovered much of their early season verve and vigour as they eviscerated Fulham 3-0 with a stunning second-half display, with Lambert netting his 100th league goal for the club.
Having collected just win in seven games during December, Southampton are unbeaten in their last four in the league - and Lambert is relishing the rest of the campaign.
"It is special to reach 100 league goals," Lambert said. "I am very, very proud.
"I am glad I have scored it so I can try and score my 101st now. It means a hell of a lot to me.
"It has been the best four-and-a-half years of my life. I have given everything and I will carry on giving everything I can while I am here. I have absolutely loved it."
Lambert also set up the other goals scored by Adam Lallana and Jay Rodriguez and he is relishing the attacking options at their disposal.
"Obviously we have got a connection," Lambert said of Lallana and Rodriguez. "We've been playing together for a while now.
"It is a pleasure playing with them two. They are on form, they've been on form all season.
"It makes my job a lot easier when I am passing to them two. It is good to play with them.
"We've played well now for four games and we've won two and drawn two. I think we were unlucky not to win all of them, to be honest. That is not being over the top.
"I think that was coming, it has been coming for a while and now we have got exactly what we deserved against Fulham.
"We're confident in ourselves and we always knew that, with the run of games we had, it would make things difficult.
"We got over those run of games with a respectable amount of points and now we have got a run of games which we think we can take a lot of points from. We are more than confident we can do that."