Southampton's finances mean no need to sell Adam Lallana, Luke Shaw, Jay Rodriguez
Southampton director Hans Hofstetter insists the club will not have to sell any of their highly-prized England stars.
Last Updated: 31/03/14 11:56am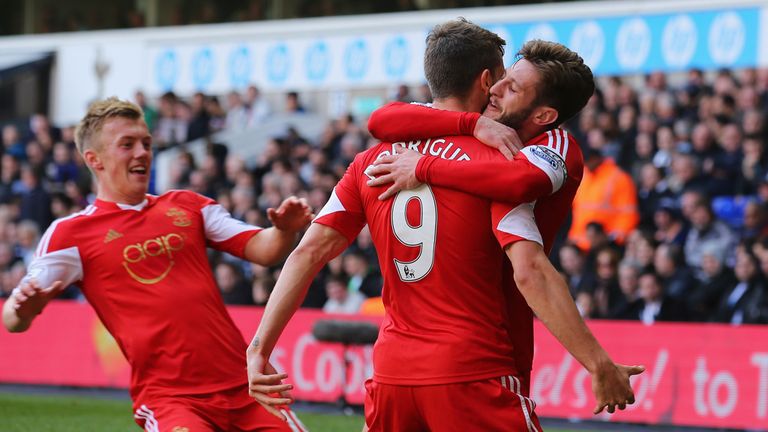 Hofstetter said no pressure would be put on manager Mauricio Pochettino to help balance the Southampton books after their holding company announced improving annual figures.
Revenues rose from £22.9m in 2012 to £71.8m last season, mainly due to Premier League broadcasting income.
Losses before income and tax were £6.6m, down from £11.9m - the club did not state the full losses after tax - while there is also an outstanding transfer debt of £27m.
Hofstetter has been at St Mary's since January, arriving shortly after Nicola Cortese's departure, and although he says he inherited a tricky financial situation there are plans in place that do not involve selling the likes of Luke Shaw, Adam Lallana and Jay Rodriguez.
He told BBC Radio Solent: "The most important point is that we are in a position where we do not need to sell any player Mauricio wants to keep.
"We have a very strong squad and we are still in a situation where we are free enough to act quickly if quick action is asked from us."
In a statement releasing the results, he added: "Whilst I perceive that we have inherited a difficult situation financially, there are now clear and structured plans in place to progress the club and avoid a similar situation from occurring again.
"In the short time I have been at Southampton it has become abundantly clear that we are blessed with a staff that has all the necessary skills with which to progress, and now that we can supplement that with a strong board I am sure we will enjoy a successful future together."
Chief executive officer Gareth Rogers said: "The financial results reflect the first full year in the Barclays Premier League and clearly show the impact of promotion two years ago.
"The club has risen quickly in a short period and committed itself to high levels of expenditure both on the development of Staplewood training ground, which is likely to exceed £30m, as well as significant future transfer fees. This high level of expenditure has required strong support from the Ultimate Shareholder and once again this has been shown.
"The redevelopment of Staplewood will provide the players and Academy staff with the best quality environment to meet the standard set by the first team who have competed and performed on the pitch at the highest level, and will also help the Academy to continue to develop future talent.
"In other areas the club has maintained its prudent approach to the stewardship of the underlying activities required to run it. It has also continued to develop the off pitch business and this approach will create a strong future.
"With the first phase of the training ground due to open this summer, Academy graduates continuing to progress into the first team, a healthy operating profit position and a strong ownership combined and balanced board we are provided with an excellent foundation from which the club as a whole can continue to grow.
"With the continued backing of our fantastic supporters and commercial partners we have every reason to be optimistic for the future."