Southampton boss Mauricio Pochettino criticises officials after Manchester City loss
Mauricio Pochettino hit out at two decisions which he felt 'killed the game' after Southampton lost to Manchester City.
Last Updated: 07/04/14 12:05pm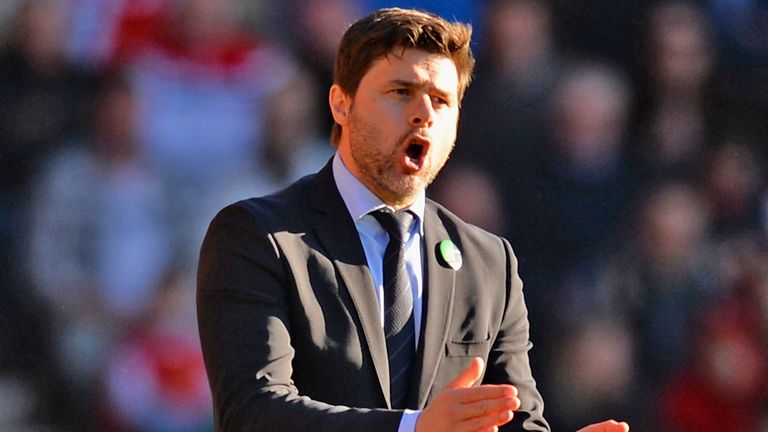 The Saints boss first felt the penalty awarded to Edin Dzeko for City's opener was soft, while the hosts then benefited from an incorrect offside decision for their second goal.
Rickie Lambert had equalised with a spot-kick of his own and Pochettino was proud of his team for playing the better football for long periods of the first half.
He said: "I think those two decisions killed the game, that penalty we conceded and the second goal. Those two moments killed the game.
"The only positive I can think of is for the first 45 minutes we were superior to a team that is actually equipped to win the Premier League.
"But to beat a team like Manchester City, a team that is full of quality world-class players, not only do you have to have the perfect game, but also the refereeing decisions have to be fair and that did not happen today."
City got off to a perfect start as Yaya Toure put them ahead from the spot in the third minute after Jose Fonte was adjudged to have tripped Dzeko.
After Lambert's equaliser, City regained the lead before the break when David Silva somehow avoided an offside flag to set up Samir Nasri.
Pochettino said: "I have just seen it on TV and I don't think you can give a penalty like that after just two minutes, I think it is inexplicable it is not right.
"And the second decision was clearly two metres offside. It did seem a type of game that you play at school."
Nasri's goal was quickly followed by a third from Edin Dzeko and Saints, 3-1 down at the break, could not respond. Stevan Jovetic made the points safe for City in the second half.
Pochettino said: "I think it can influence any player when you get a bad call like that and, of course, it did affect our players today."
Asked if he had spoken to the officials, Pochettino said: "I have already spoken to them and I am not going to speak any more to them.
"If I were to speak to them, we would have to probably repeat the match."