How Steven N'Zonzi went from Stoke to La Liga superstar at Sevilla
Last Updated: 16/02/17 2:55pm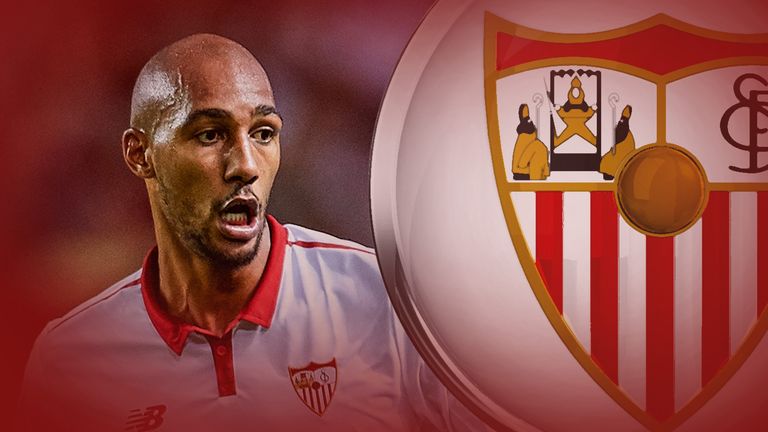 Steven N'Zonzi survived a slow start after his move from Stoke City to become the main man at Sevilla. Adam Bate looks at how and why the Frenchman has defied the odds to become arguably the best midfielder in La Liga…
He's the new Patrick Vieira, according to Sport. Gabriel Sans of Mundo Deportivo rates him as the ideal alternative to Sergio Busquets and Sky Sports regular Graham Hunter recently argued there is no better player in his position in the whole of Europe.
The man is Steven N'Zonzi. That Steven N'Zonzi. The gangly guy from Stoke. Sam Allardyce and Tony Pulis favourite turned player of the month nominee for January and recipient of a fat new contract to ward off interest from Barcelona, Chelsea, Manchester City and Arsenal.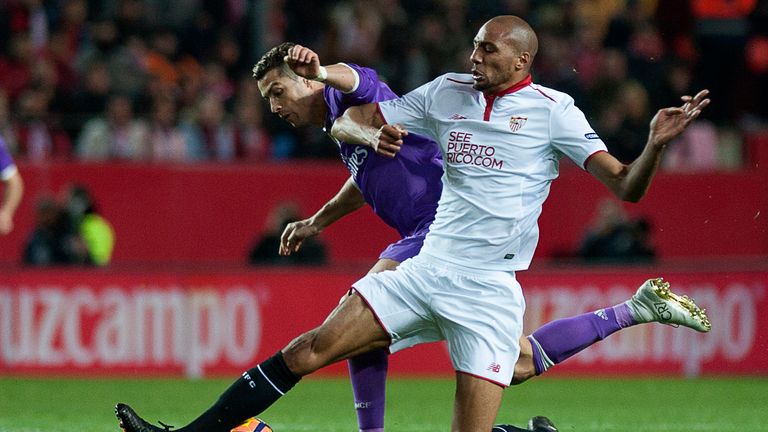 It is, as N'Zonzi himself says "a beautiful story" and one that looked particularly unlikely in the early days following his move to Sevilla in the summer of 2015. Sent off on his debut against Malaga, he even endured whistles and jeers at the Sanchez Pizjuan soon after.
Critics were not kind. As Jose Manuel Garcia memorably put it in El Confidencial, N'Zonzi looked "more lost than an Eskimo in Lanzarote" and moved "like an elephant in a pottery shop". It looked like €10m (£8.51m) poorly spent by Sevilla's acclaimed sporting director Monchi.
But N'Zonzi has blossomed, particularly under new coach Jorge Sampaoli as Sevilla mount an unlikely tilt at the title in Spain. The turnaround began last year under Unai Emery though, with N'Zonzi playing his part in the club's Europa League final win over Liverpool.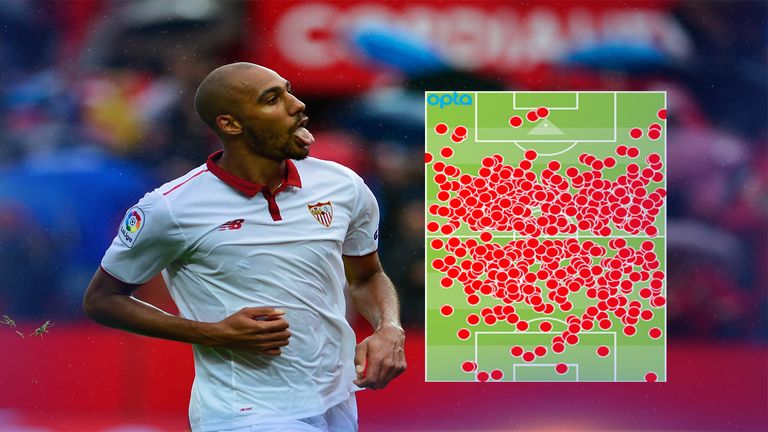 It was a third in a row for Sevilla but the first trophy of N'Zonzi's career. A great moment then and also one that had a profound effect on the player. "I see football now in a different way," he told L'Equipe. "It's worth working and giving it your all to try to win something."
People are seeing him differently too, willing to look beyond that skinny 6'3" frame and recognise what fans at Stoke and Blackburn already knew - N'Zonzi really can play. The clues were there. He was one of only nine players to make 2000 passes in his final year in England.
Monchi spotted the potential and that aspect of his game has gone up a level in Spain. N'Zonzi has made more passes than any other player in La Liga this season - averaging over 78 per game and seldom relinquishing possession even amid Sevilla's high-tempo approach.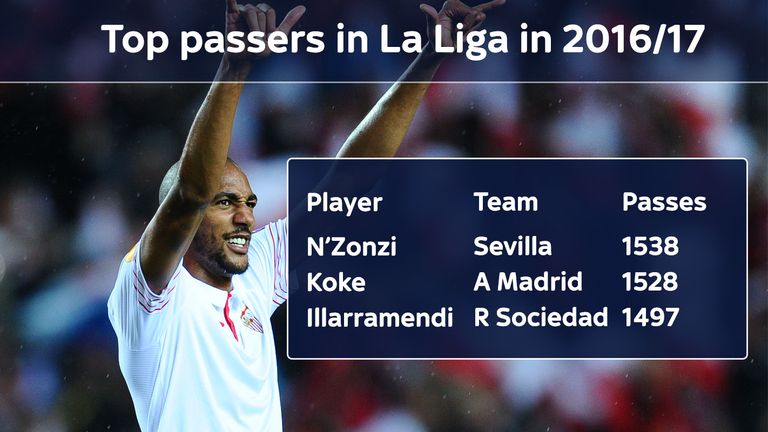 Sampaoli has experimented with many formations but his pivot always remains the same. Indeed, N'Zonzi is the only outfield player at the club to play every minute so far this season. He is the one who gives Samir Nasri, Franco Vazquez and the rest a platform to play.
"At times N'Zonzi is the only orthodox midfield player in the team so he really has to work hard," says Sky Sports' Spanish expert Terry Gibson. "He has shown he is a good athlete and he's really good technically as well. He's got an eye for a pass and added goals to his game.
"We're not just talking about a player who sits in front of the back four. He's a multi-purpose midfielder. He could be box-to-box, he could be a holding midfielder and he could be an attacking midfielder. He's got everything."
The individual high was surely his glorious winner against Atletico Madrid in October but N'Zonzi is not really a highlights player, leaving that to the energetic players who operate ahead of him. His role is to dictate play, picking the right passes both short and long.
It's a role that has made him the focal point of Sevilla. Sampaoli's on-field general. The two have a strong bond and it was the Argentine who convinced N'Zonzi to extend his deal - giving his advice that was "beyond that of a coach" last month.
In announcing a deal until 2020, Sevilla described the midfielder as "undoubtedly one of the most outstanding players both in Spain and in Europe". It underlines their commitment, with club president Jose Castro claiming N'Zonzi would not be sold for any amount.
It was a big decision for the player with bigger clubs interested. But with the prospect of Sevilla doing something special at home and abroad, it's tempting to think that N'Zonzi has found the right club. "It feels like the whole city is behind the team," he said recently.
And after a difficult start, the city is right behind their midfielder. He's the new Vieira, he's better than Busquets and he signed from Stoke. Unlikely as it seems, perhaps Steven N'Zonzi's beautiful story could yet have a beautiful ending in Sevilla.