Etherington eyes Europe
Stoke's Matthew Etherington is looking forward to a European adventure despite losing the FA Cup final.
Last Updated: 15/05/11 5:29pm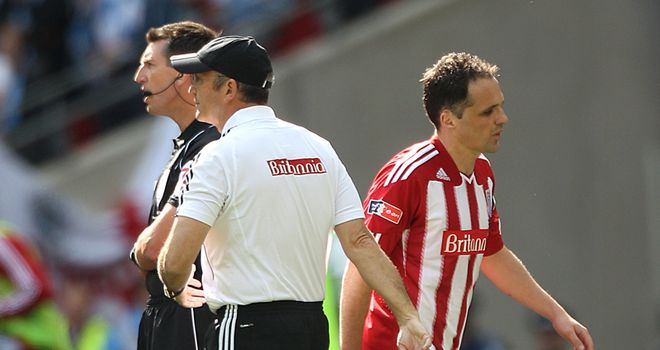 Stoke winger Matthew Etherington is looking forward to a European adventure despite losing to Manchester City in the FA Cup final.
A goal from Yaya Toure in the 74th minute was enough to give City victory over Tony Pulis' side at Wembley on Saturday.
Stoke have qualified for Europe for the first time as City will play in the UEFA Champions League and Etherington is looking forward to the challenge.
He said: "We are in the Europa League next year and the manager wants to push on. He said that in the changing rooms.
"We want to push on as a club and as a team and it's about getting some more quality in the summer. And if we do that, I'm sure it'll be another good season.
"It has been fantastic year but it would've been nice to get a trophy. The lads are devastated."
Etherington shrugged off a hamstring injury to take part in the Wembley showpiece and, despite appearing to lack match fitness, he insists his selection was justified.
Fitness
"It was touch and go whether I would make it," he said. "I didn't train for over two weeks and it was only yesterday I kicked a ball for the first time.
"I felt I was in good enough shape to do myself justice. I was happy to be out there and disappointed we didn't win."
Goalkeeper Thomas Sorensen echoed Etherington's comments that the club is moving forward.
The Dane kept City at bay with a couple of superb saves after retaining his place in the cup team ahead of Asmir Begovic.
Sorensen said: "We have to build on this season like we've done the previous years. Sometimes, on the back of a major disappointment, you need to remember this as well.
"To create a winning mentality, you need to remember how it felt when you lost. That's what a lot of people need to learn from this and make sure it doesn't happen again.
"We haven't got the financial means to just buy players whenever we want, so it needs to be slow progress. Then the club is definitely going upwards and that's what we want."