Shotton happy with Stoke's form
Ryan Shotton believes that Stoke's confidence and determination is the main reason why they have managed to turn their season around.
Last Updated: 06/12/11 2:02pm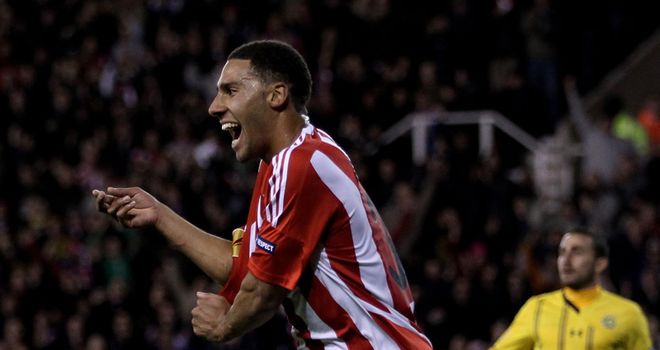 Stoke defender Ryan Shotton believes that his team's confidence and determination is the main reason why the Potters have managed to turn their season around so far.
Tony Pulis' men have moved up to eighth in the Premier League as they prepare for their clash with in-form Tottenham at the Britannia Stadium on Sunday.
City have had an impressive run of late in which they have beaten Blackburn at home, Everton away and secured qualification into the last 32 of the Europa League after drawing with Dynamo Kiev.
They had previously suffered four straight league defeats, but Shotton insists they never lost belief.
"It was never doom and gloom. We didn't feel the pressure. We knew we have a great set of players that could get through this," he told The Sentinel.
"We have done that. We have grafted, got the points we wanted and got through in Europe.
"Tottenham are going well and have great players, but we are at home. We got a point against Manchester United at the Britannia and have beaten the likes of Arsenal.
"We know the fans are going to be behind us in every game, and that is a massive help."
Over the moon
The young right-back has featured in many of City's Europa League matches but he made his first league start for the club in Sunday's 1-0 win over Everton.
Shotton is delighted to play for the team he grew up supporting, particularly when it is the first time his club has won at Goodison Park since 1981.
"Nobody realises how much it means to me. To come away from home, get my first start, and for us to win the game and keep a clean sheet - I am over the moon," he said.
"Coming off the back of the Kiev game on Thursday, we really wanted to stay strong collectively, and we showed that with how we played. It was a great team performance."
The Potters defender was used on the right of midfield in an attempt to cancel out the Toffees' attacking left-back Leighton Baines, and Shotton believes with his recent impressive performances he is getting close to regular first-team football.
"I am knocking on the door, and when I get the chance, hopefully I can take it," he said. "My job was stopping Baines getting forward and stopping him getting his crosses in; that is a big threat of theirs.
"We knew how tough it was going to be at Everton. Players like Tim Cahill can change the game so quickly, so we knew we had to stay strong and concentrate.
"When they announced seven minutes of injury time I was a bit worried, but we defended like warriors. It was great to see everyone digging in and being there for everybody else."