Coates slams review panel
Peter Coates has called for a review of the FA's appeal procedures after Robert Huth's red card was upheld.
Last Updated: 08/02/12 10:48am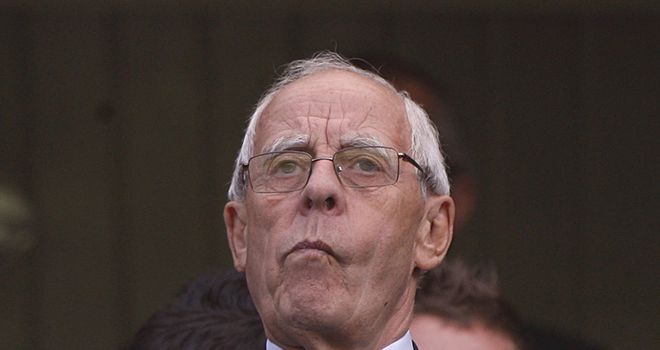 Stoke City chairman Peter Coates has called for a review of the FA's appeal procedures after Robert Huth's red card and three-match ban was upheld by a disciplinary panel.
The Potters saw their appeal rebuffed on Tuesday after defender Huth had seen red for a tackle on Sunderland midfielder David Meyler in last Saturday's Premier League fixture.
Coates questioned whether the panel looked properly at the incident and believes the personnel and directives they are operating under, should now come under scrutiny.
Asked whether there should be a change in the system after Stoke's appeal was rejected, Coates told The Sentinel: "On the basis of what's just happened, it certainly makes you feel that way. You feel it is not being operated satisfactorily.
Decision
"Referees do make mistakes and nobody blames them for that, but we need a system that redresses that."
Appeals are currently heard by what the FA calls an independent regulatory commission made up of a specially-trained chairman, an ex-professional or manager and an experienced FA councillor.
Huth, previously sent off only once before in 239 club appearances, now misses Stoke's games against Fulham, Crawley and Swansea, but is eligible for the two-legged Europa League tie against Valencia.
"We are disappointed by the decision," Coates added. "We had the strong impression they turned it around so quickly that they don't seem to have looked at it.
"There is absolutely no reason why Huth should have been sent off.
Big blow
"He did everything the authorities are asking players to do. He made sure he pulled out of the tackle, but it all gets completely ignored.
"I haven't seen or heard an independent observer who thought it was a red card. The more you see it and analyse it, the more you feel a sense of grievance.
"We lose a game as a result and we lose a key player for three games."
Manager Tony Pulis, believing far worse challenges have gone unpunished this season, said: "Robert has got a three-match ban for pulling out of a challenge.
"It's a big blow for us, but we will have to take it on the chin."