Officials anger Pulis
Stoke manager Tony Pulis was far from happy with the officials following his side's 2-0 win at Crawley in the FA Cup fifth round.
Last Updated: 19/02/12 4:07pm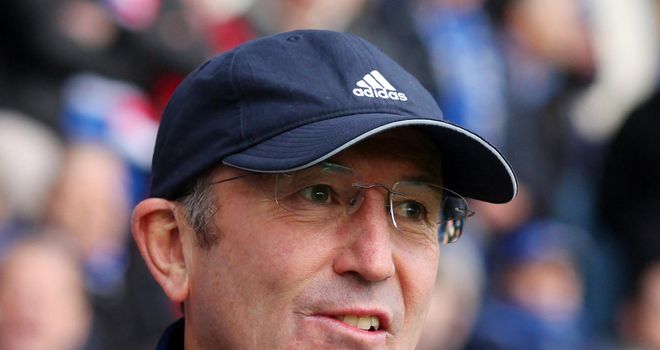 Stoke manager Tony Pulis was far from happy with officials following his side's 2-0 win at Crawley in the FA Cup fifth round.
Goals from Jon Walters and Peter Crouch sent Stoke through, but that was only after an early red card for Rory Delap.
And Pulis was left far from happy at the red card handed out to the former Irish international.
"There is a big problem within the game in that I think professional people and referees are so far apart in what they see in terms of what are fair challenges or competitive challenges and the bad, reckless challenges," said Pulis.
"We had a fourth official [Lee Probert] today who I think has got Rory sent off.
"He has refereed a game against Liverpool and not even booked a player for what was the worst challenge in the Premier League this year in [Yohan] Cabaye's challenge on [Jay] Spearing.
"Lee was five yards away and the difference between what we think and sometimes what referees think is enormous.
"As a profession we have to try and get closer to the referees to explain and express our views.
"But if you want to go and have a look at Cabaye's challenge and then Rory's today, you tell me which is the worst challenge.
"Like I say, that is the disappointing thing. The sometimes enormous gap between what we think and they think."
Pulis will decide over the next 24 hours whether to appeal Delap's red card, which he reiterated was due to fourth official Probert.
"The referee, I think, gave a throw-in so Lee Probert is the one [that got Delap sent off]," he said.
"Lee has told the lads, told my staff, that he is the one but I don't want to be slaughtering people.
"I just want to say there is a discrepancy in what we think and that can't be shown in a greater light than today."
Pleased
Potters boss Pulis was pleased with the way his side rallied after the 17th-minute sending-off.
"You can see why they have been successful," he said of Crawley.
"They played to their strengths and were a very, very tough side.
"We had to show them the utmost respect, which we did in our preparation. We are very, very pleased to get past them.
"It is a great achievement by the football club to have made a third successive quarter-final appearance.
"We're one win away from Wembley again and it would be lovely if we could get a home tie.
"We have had three away games in the FA Cup this year so fingers crossed we will get a little bit of luck and get someone at home. I don't mind who."