Pulis aims to upset the odds
Tony Pulis has plenty of cause for optimism as Stoke prepare for their FA Cup quarter-final against Liverpool.
Last Updated: 16/03/12 4:52pm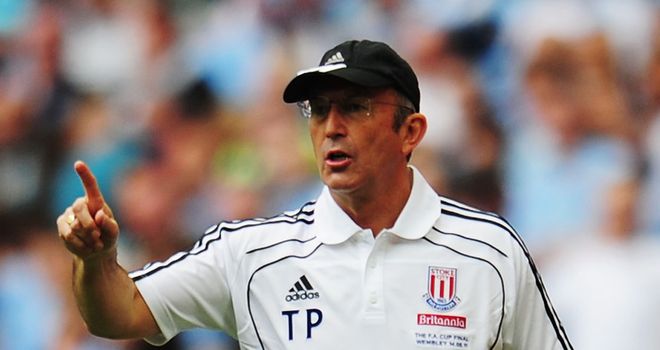 Stoke boss Tony Pulis has plenty of cause for optimism as he prepares for their FA Cup quarter-final against Liverpool.
The Potters have not won at Anfield since 1959 and Liverpool are clear favourites for Sunday's clash after knocking them out of the Carling Cup this season and beating derby rivals Everton 3-0 on Tuesday night.
But Pulis led Stoke to last season's final, losing 1-0 to Manchester City, and he has taken encouragement from their league games with Liverpool this term.
The Potters beat the Reds 1-0 at the Britannia Stadium in August before holding them to a 0-0 draw at Anfield in January.
"We know how difficult it's going to be," said Pulis. "It's a very tough game for us. Liverpool are a very good side, especially at home.
"We've watched them the last few weeks and they were desperately unlucky to lose to Arsenal, that game should have been over in the first 45 minutes.
"I went and watched the derby on Tuesday night and I thought they were outstanding.
"This will be the fourth time we've played them this season and they've always been tight games and good games. They're obviously favourites and rightly so but we'll do our best, as we always do.
Raise the bar
"It gives us heart that we've played them three times and given them a good run for their money on three occasions, and that will be the theme this week.
"If we can just raise the bar a little bit again then, if things go for us, we might get the result everybody in Stoke-on-Trent wants."
Although Liverpool looked impressive against Everton, that was only their fifth win from 14 home games in the league this season.
And Stoke will travel to Merseyside with a strong following having sold out their allocation as tickets were only £20 after being subsidised by owner Peter Coates.
"It's a great gesture by Peter and the Coates family," added Pulis. "It just shows the togetherness that we've got at the football club from boardroom level through to the people on the street.
"They understand the area. Peter's been here for 74 years and he understands that sometimes you have to do deals like this to help the supporters.
"They'll be fantastic. We took nearly 6,000 to Derby and that helped us immensely, so to take 6,000 to Anfield will make it a fantastic atmosphere."