Pulis wants a boost from fans
Tony Pulis has challenged Stoke's fans to give his team an extra boost to propel them to a top-10 finish.
Last Updated: 20/03/12 5:24pm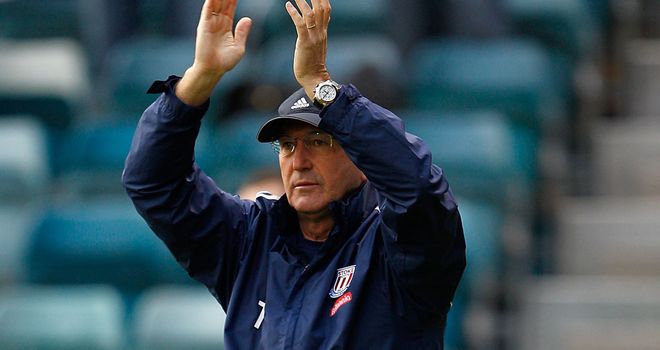 Tony Pulis has challenged Stoke's passionate fans to give his team the extra boost that will propel them to a top-10 finish.
The Potters have enjoyed good cup runs this term in the FA Cup, Carling Cup and Europa League.
Yet their successes have come at a cost as Sunday's 2-1 defeat by Liverpool in the quarter-final of the FA Cup was their 46th game of a gruelling season.
Fantastic
Stoke are currently 14th in the Premier League - but just one point off a top-10 place - and Pulis has urged the Potters fans to roar them to top half finish.
"We've had a fantastic season, especially when you look at what we've achieved in the cup competitions, but now we just need to get over the line," Pulis told the club's official website ahead of Wednesday's game at Tottenham.
"We still need a few points in the Premier League and we want to finish as high in the table as possible, so at the end of a long season in which we have played 46 games now, we need one final effort to get us where we want to be.
"The supporters were fantastic once again (at Sunday's match), but we'll need them over the remaining matches to help push us over that line."
He added: "I've said before that the togetherness throughout this club has been key to our success and we need to stick together now.
"The players have worked so hard over the past eight months; their effort and commitment has been excellent, but we now have to finish the job off.
"So I am asking the fans personally to get behind us because the lads certainly need that little bit of help."