Pulis targets strong finish
Tony Pulis has insisted that Stoke are determined to end their season on a high and inflict a defeat on Bolton that would relegate the Trotters.
Last Updated: 11/05/12 4:42pm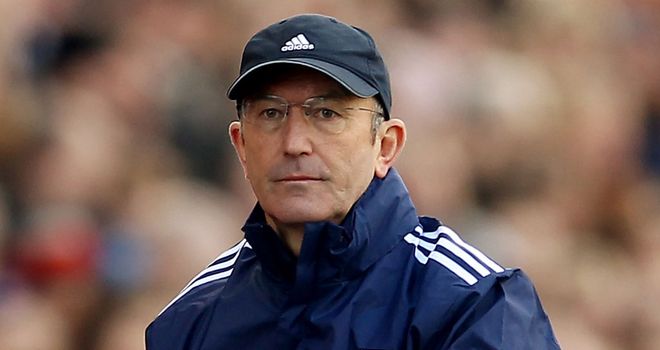 Tony Pulis has insisted that Stoke are determined to end their season on a high and inflict a defeat on Bolton that would condemn the Trotters to relegation.
Owen Coyle's side must win at the Britannia Stadium on Sunday to stand any chance of staying up, while they also need Queens Park Rangers to lose to Manchester City.
The Potters have nothing as important as survival to play for and Pulis admits he is surprised to see Bolton languishing in such a perilous position.
The Stoke manager is nevertheless looking to give his supporters a winning finale at home before the summer break, especially after suffering such a late defeat last week at QPR.
Pulis said: "We were disappointed last week. The result certainly didn't reflect the performance but that happens. We want to finish on a high if we possibly can and get three points.
"We really had a go at QPR last week. We didn't turn up and just sit around, we worked very hard. The problem we had was that when we had our chances we didn't take them.
"Owen has his responsibilities, he has his own football club to look after and he has to manage the week the way he has to. I have to manage the week for this football club.
"They'll be disappointed where they are because I think they have got some very good players."
Double trouble
Stoke will also have extra motivation for their 56th game of a lengthy season when they look back to the meeting between the sides at the Reebok Stadium in November.
The Potters had just returned from a Europa League match against Maccabi Tel Aviv in Israel and were thumped 5-0, their heaviest defeat of the season.
Pulis said: "QPR have done the double over us, and if Bolton beat us on Sunday then they've done the double over us. They're not stats that you want but they're there for everybody to see, so we've got to make sure we stop that one as well.
"They caught us on the back of a European game like Sunderland caught us (in a 4-0 defeat). We conceded nine goals on Sundays where we had to travel after coming back from Europe, and they were early season when we didn't have the experience to cope with what we were doing. And we certainly had our pants pulled down and our backsides slapped."
The tiring season does look to have rather caught up with Stoke, whose only win in their last 11 games came against bottom side Wolves, although it is more than three months since they were beaten in the league at the Britannia Stadium.
"If you look at it that's a disappointing stat, but then you look at the teams we have played, and we played very well at home against Manchester City and Arsenal," said Pulis.
Great
"We've had that run, and that's what happens in the Premier League. It's so tight. It's such a difficult league that you can go on runs like that. You can't fault the players' effort."
Another incentive for Stoke is the knowledge that a win on Sunday would equal their best Premier League points tally of 47 and potentially lift them as high as 11th in the table.
Pulis added: "That would be great if we could do that after the games we've had and what we've tried to achieve in Europe and the cup competitions. We've attacked everything that we've entered with the right spirit and with the right commitment."